Good Morning, Cruciverbalists. Malodorous Manatee, here, with today's Friday puzzle recap. Our puzzle setter, Katie Hale, has constructed a Puzzle wherein she literally uses the word literally correctly and not in the-centuries-old, and seemingly becoming more prevalent, mis-used way of figuratively.
For example, in Little Women Louisa May Alcott wrote that `The land literally flowed with milk and honey.' Tom Sawyer was not turning somersaults on piles of money when Mark Twain described him as `literally rolling in wealth.' Jay Gatsby was not shining when Fitzgerald wrote that he `literally glowed.' Such examples are plentiful, even in the works of the authors we were taught to emulate.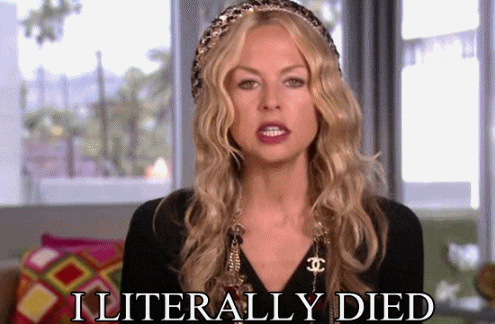 Excuse me? It's not possible that anyone could say that. Oh, never mind.
On to the puzzle. There is no "reveal" as the "gimmick" (if you will) is found within each of the clues in which Katie asks us to suss out the literal meanings of words from five languages other than English. The French, Italian and Spanish may have been familiar to many of us Eurocentric American solvers. The Turkish and Indonesian were likely less so. Here are the five themed answers:
16. Zevk, literally: TURKISH DELIGHT. Zevk is TURKISH for pleasure.
24. Bise, literally: FRENCH KISS. Today's French lesson. Bise is FRENCH for kiss.
36. Cangkir, literally: CUP OF JAVA. Cangkir is cup in Indonesian. The island of Java, Indonesia is the world's most populous island.
50. Quando, literally: WHEN IN ROME. Quando is Italian for, yep, WHEN. What is this world coming to? Last week Sonny and Cher and this week:
58. La lluvia, literally:
THE RAIN IN SPAIN
. Today's Spanish lesson: Spanish for RAIN. By George, I think she's got it:
Here is the completed grid:
. . . and here are the rest of the clues and answers:
Across:
1. Kid's parent: GOAT. Neither a human child (clue) nor the Greatest Of All Time (answer). An ovine reference.
5. Rebecca in the Basketball Hall of Fame:
LOBO
. Our esteemed editor, as has been previously pointed out on this blog, seems partial to WNBA references.
9. Texter's "I don't understand": WDYM.
13. Actor Omar:
EPPS
. Omar often visits us and more often it's his first name that is the answer.
14. Hyaluronic __:
ACID
. It keeps body tissues hydrated.

15. Frost: HOAR.
19. Early ISP:
AOL
.

A

merica

O

n

L

ine. Remember all those discs they used to give away? I still use their email service for other-than-personal (junk) email.

20. Fictional sleuth Wolfe: NERO. Another frequent visitor.

21. Egyptian cobra: ASP. Cleopatra's ASP is very well known.

22. St. __: Cornwall town: IVES. Polygamy as a learning opportunity: