Each theme answer contains a word or syllable, each with a different spelling, pronounced the same: "PEEK."
The above image is of

Pik

achu - a species of Pokémon. His cheeks store electricity.
18. Breed also known as a Lion Dog:

PEK

INGESE. Tricky spelling.
From
akc.com
: "A compact toy companion of regal bearing and a distinctive rolling gait, is one of several breeds created for the ruling classes of ancient China."
26. Angry display: FIT OF

PIQUE

.
49. When the volume is the highest:

PEAK

SEASON.
62. Survey surreptitiously: TAKE A

PEEK

.
Melissa here. There were some clever and sneaky clues in this one. Theme was easy to spot as soon as two theme answers were filled in.
Across:
1. About, in dates: CIRCA.
6. Words With Friends and such: APPS. I bet there are lots of cornerites who play that one. I prefer Draw Something. As much as I enjoy crosswords, Scrabble is too slow for me. It is quite popular in prison visiting rooms, as is dominoes.
10. They form a "cage": RIBS. Nice.
14. Bee-related: APIAN. Hee.
15. Cry while pointing a finger: LOOK. The "cry" tripped me up.
16. Rebecca's firstborn: ESAU.
17. General opening?: SOFT G. I still get tricked by this.
20. High regard: ESTEEM.
22. Nasty types: MEANIES.
23. Warm feeling: GLOW.
25. Gridiron official: REF. I wasn't aware that Gridiron Football was the term for American football.
31. Skill useful in delicate situations: TACT.
35. Big name in gaming: ATARI.
36. Like the Javanese calendar: LUNAR. Java is an island of Indonesia. Something tells me there may be a regular who has some pictures to share. See it at the bottom left? Things to see in Java.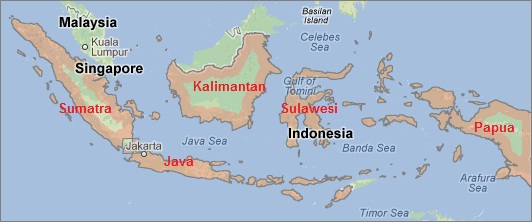 38. Swear: VOW. I do.
39. Catholic univ. in San Antonio: MARYS.
40. Facebook titter: LOL.
41. Kagan on the bench: ELENA.
43. Symphonic rock gp.: ELO.
44. Port-au-Prince locale: HAITI.
46. "Otello" composer: VERDI.
47. Towns on some maps: DOTS.
51. Guffaw syllable: HAR.
53. Prominent fox features: EARS.
54. Alters to fit: TAILORS.
58. Souvenir with a slogan: T-SHIRT. Vote for Pedro.
64. Sanction: ALLOW.
65. Graph line: AXIS.
66. Westin competitor: OMNI. Hotels.
67. Rope often coiled: LASSO. Not noose.
68. Beer order: PINT.
69. Pop: SODA.
70. Moves rhythmically: SWAYS.
Down:
1. Detective's job: CASE.
2. Nasdaq debuts: IPOS.
3. Breach: RIFT.
4. Hurricane strength term: CATEGORY.
7. Work often recited: POEM.
8. Sack holding a pig, in an old idiom: POKE.
9. Winter sports mecca: SKI AREA.
10. Pass along, with dubious etiquette: RE-GIFT.
11. "It's clear now!": I SEE.
12. Barbershop member: BASS.
13. "X" author Grafton: SUE.
19. Austin-to-Dallas dir.: NNE.
21. Do some floor work: MOP. My mind went to dancing.
24. Singer Nelson: WILLIE.
26. Well-known: FAMED.
27. Writer Calvino: ITALO.
28. Seer's deck: TAROT.
29. Prescribed goal: QUOTA.
30. "A tradition __ any other": trademarked catchphrase for The Masters: UNLIKE.
32. Declares: AVERS.
33. Housing choice: CONDO.
34. Huck Finn creator: TWAIN.
37. Setbacks: REVERSALS.
42. Pet control ordinance: LEASH LAW.
45. Fitting: APROPOS.
52. In the manner of: ALA.
54. Bus alternative: TAXI.
55. Similar (to): AKIN.
56. San __: Riviera resort: REMO. Wikipedia has it as one word.
57. Transmit: SEND.
59. Ingrid's "Casablanca" role: ILSA.
60. Optimistic: ROSY.
61. There are five in ten: TWOS.
62. Word with dance or root: TAP.
63. Sedona, for one: KIA. Car model, not city.
Notes from C.C.:
1) Happy 81st birthday to Commander Al (Spitzboov), who has generously helped me with many problems over the years. Al served in the
Navy
Reserve for over 20 years and continues to be involved in various navy activities. Because of Spitzboov, Boomer and I have
the best flag
in the neighborhood.
(August 23, 2014, Washington County Fair)
3) Happy 83rd Birthday to
John28man
! So happy that all your medical problems are under control and you continue to enjoy an active life, John!