Theme: Titleholders in Music
19. Nickname for Elvis Presley: KING OF ROCK 'N ROLL.
37. Nickname for Ella Fitzgerald: FIRST LADY OF SONG.
49. Nickname for James Brown: GODFATHER OF SOUL.
Boomer here. Greetings all. Those of us that follow Major League Baseball probably noticed that this was "Oreo" weekend. All home team players wore very very white uniforms, while the visiting teams dressed in black. Players were allowed to have their nicknames on the backs of their uniforms.
It started to rain Saturday on the golf tournament so I switched TV to the Cubs - Nationals game. There were no Cubs uniforms with "TTP" on the back. I did not see a "Boomer" name on any uniform either. I suppose none of the players were born in 1947.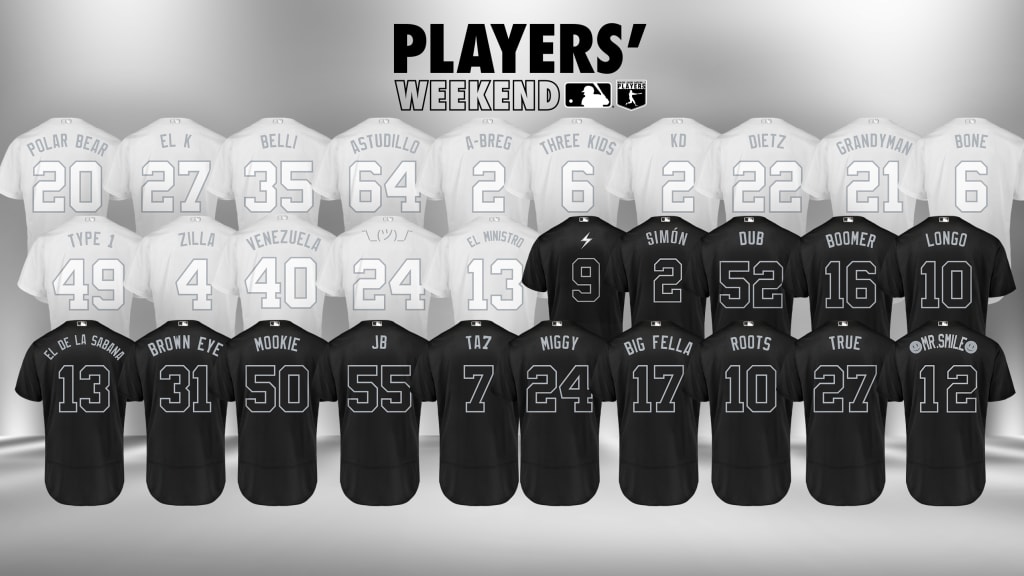 There were a couple of Black Hawk hockey players in the announcers booth and they led the 7th inning "Take Me Out to the Ballgame". I hope they play hockey better than they sing. I'm sure Harry Caray was spinning in his grave.
Hey Elvis lovers try this: "As the snow flies, on a cold and gray Chicago morn, another little baby Cub is born in a Wrigley."
Across:
1. Meat shaped for a burger: PATTY.
6. Consider: DEEM.
10. Place to unwind: SPA.
13. Sound before "Bless you": ACHOO.
14. Food brand for Fido: ALPO. I'll bet that dogs with other names eat it also,
15. Visa competitor, briefly: AMEX. I don't think they have the cash back and travel miles deals to compete.
16. Like a wet day: RAINY. The aforesaid golf tournament in Atlanta.
17. "Deal me a hand": I'M IN. This is a new slogan for the Minnesota State lottery. C.C. and I don't play because of the long odds, so "I'm Out."
18. __ slaw: COLE. I am pretty sure that Nat King Cole belongs on the header list.
22. One rotation of Earth on its axis: DAY. Doris recorded "Sentimental Journey". Not sure if she could be called a "Queen of Soul".
23. Up until now: YET.
24. "I'll pay any price!": NAME IT.
28. Nod off: DOZE. Previous Twins hero Brian Dozier was playing for the Nationals Saturday. I think his nickname is Doze, but I did not see it.
31. Not hers: HIS.
34. "We're having __!": retail come-on: A SALE. Chris SALE is having a so so year for the Red Sox.
35. Jupiter's wife: JUNO.
36. Marriott rival: OMNI. Dodge had an "OMNI Hatchback" on the market in the 70s. They were small and ugly and have now been replaced by big and beautiful SUVs.
40. Scarlett's plantation: TARA. Also 60. Scarlett's last name: O'HARA.
41. Acme: APEX.
42. "Nevermore!" bird: RAVEN. Edgar Allen Poe wrote this poem over 150 years ago, and it lives on. I wrote "Zoilo, Tony and the Brew" about 35 years ago, and nobody cares. "The Mudcat, the Kitty and Old Blue, They knew them from Duluth to Waterloo. Especially Zoilo, Tony and the Brew."
43. Boy in "Star Wars" prequel films: ANI. Darth Vader.
44. Currier and __: printmakers: IVES. "These wonderful things are the things we remember all through our lives."
45. Seth of "SNL": MEYERS.
46. Ring or stud site: EAR. No way anyone is EVER going to put a hole in my ear.
48. He wrote "The 42-Across": POE. SEE! Boomer not even mentioned.
58. Funny Bombeck: ERMA. She left us in 1996. The Minneapolis paper used to carry her column.
59. A4 automaker: AUDI. A4 Is just the model name. Maybe they misspelled "4A"
61. Close by: NEAR.
62. Marvel Comics mutants: X-MEN.
63. Post-op therapy: REHAB.
64. 2,000 pounds: TON. Load 16 of them, and what do you get. Another day older and deeper in debt.
65. Ain't right?: ISN'T. "So Ain't that too damn bad?"
66. Brutalizes: MAULS.
Down:
1. Place to spread a picnic blanket: PARK. Not Fenway.
2. Smoothie berry: ACAI. These are healthy but very expensive. Not as $$$ as health insurance though.
3. Slender: THIN. Speaking of expensive food, I used to love Thin Mints. Not anymore. Now I just snack on Metformin.
4. Half a barbecuer's pair: TONG. We have a pair in the kitchen. Sometimes I use them to pick up something I dropped on the floor. What can I say. Sometimes older people need a little help.
5. Up-and-down weight loss effort: YO-YO DIET. Not to be confused with Yo-Yo Ma, an accomplished cellist.
6. Grocery section with milk: DAIRY.
7. Red Muppet: ELMO. He is tickled to be in this puzzle.
8. "Lawrence of Arabia," e.g.: EPIC. This movie lasted nearly four hours!! I preferred the 90 minute flicks at the Drive In.
9. 2000s OCD-afflicted TV sleuth: MONK.
10. Often sarcastic "Nice one!": SMOOTH MOVE. Generally you should call "Nice one" on the golf course, whether it's a good shot or not.
11. __-mell: disorderly: PELL. We used to call Pall Mall Cigs - Pell Mell.
12. Ice skater's jump: AXEL.
15. Property measure: ACRE. Also can describe a bad tooth.
20. White part of beef: FAT. Don't forget the Tuesday before Ash Wednesday. Celebrated heavily in New Orleans and Las Vegas.
21. "Science Guy" Bill: NYE. Speaking of Las Vegas there is a "Nye" county just west northwest of the "Silver City". We stay at the "Orleans", but not during the Mardi Gras festivities.
C.C. & Boomer, Feb, 2019
24. 1990s commerce pact acronym: NAFTA. "North Atlantic Free Trade." Trade does not seem to be free any longer.
25. Thai or Laotian: ASIAN. Occasionally I like Chow Mein for a meal. But C.C. says it is not real Chinese food.
26. He's not single: MARRIED MAN.
27. Film lioness: ELSA.
28. Fellas: DUDES. I am not a Dude. I dress sloppy and have never been to one of their ranches.
29. Banded gemstone: ONYX.
30. Place to observe animals: ZOO. We have two zoos in Minnesota, but they don't seem to compete. Neither has a Panda or a purple cow.
32. __ circle: group of close advisers: INNER.
33. Omens: SIGNS.
35. Joke: JAPE.
36. "__, can you see ... ": O SAY. This is our national anthem. I really object to some of the performances allowed at special events. Can you say Roseanne Barr ??
38. Loo: LAV.
39. Having an irregular design: FREE FORM.
44. "Roth" investment: IRA. The "Roth" seems very complicated, however tax-efficient I suppose.
45. Bovine sound: MOO. This was a sorority in "Animal House".
47. Not at all close by: AFAR. "We three kings of Orient are; bearing gifts we traverse AFAR"
48. Make a hard copy of: PRINT.
49. Fellow: GENT. Earlier in the puzzle he was a "Dude".
50. Black-and-white treat: OREO. MLB games last weekend.
51. Uber alternative: TAXI.
52. Runs smoothly: HUMS.
53. Blissful Genesis place: EDEN. I have mentioned this before. We have a Minneapolis suburb of Eden Prairie. It's about 40 miles south of us, and a very nice suburb. I think Bud Grant lives there.
54. New York stadium dismantled in 2009: SHEA. It is amazing that the Mets and formerly the Giants have gone through three ballparks. So have the Twins and others. While the Cubs and Red Sox live on in Wrigley and Fenway.
55. Honolulu's island: OAHU.
56. Eurasia's __ Mountains: URAL.
57. Chocolate dogs: LABS. I have not seen a "Chocolate dog". I have eaten chocolate bunny rabbits around Easter, but not any more.
Boomer
Notes from C.C.:
Happy birthday to Montana, a retired math & science teacher who lives in Montana. Here is a nice picture from her Oregon Trail trek back in 2012.