Theme: "Name Tags" - Each familiar phrase is re-interpreted as if the word is a person's name.
21. Inspiring Gates?: ELECTRIC BILL. Bill Gates is truly inspiring.
24. Upright Fosse?: PLUMB BOB. Bob Fosse, the choreographer with nine Tony wins.
49. Refined Bailey?: CULTURED PEARL. Pearl Bailey.
51. Careless Montana?: SLOPPY JOE. Joe Montana.
64. Vividly expressive Carney?: GRAPHIC ART. Art Carney.
67. Outgoing Macdonald?: SOCIAL NORM. Norm Macdonald of "Saturday Night Live".
86. Slothful Sontag?: LAZY SUSAN. Susan Sontag.
89. Seafaring Davis?: NAUTICAL MILES. Miles Davis.
113. Forthcoming Tyson?: OPEN MIKE. Mike Tyson.
115. Forceful Kelly?:
DOMINANT GENE
. Gene Kelly.
We got a good mix of people. 2 ladies. 8 men. From various walks of life.
Theme heavy. Total 10 entries in a 140-word grid.
Across:
1. Milky white kind of glass: OPAL.
5. "Dumb and Dumber" co-star: CARREY. Jim Carrey seems to be a recluse now.
11. Confident: ASSURED.
18. Stellar phenomenon: NOVA.
19. Aspirations: DREAMS.
20. Self-officiated game with a disc: ULTIMATE. Why don't they call it "Ultimate frisbee" any more?
25. More tender: SORER.
26. Driver's lic. info: DOB.
27. Red dye: EOSIN.
29. Use for a fee: RENT.
30. Family nickname: SIS.
32. Something read to the rowdy?: RIOT ACT. Nice clue/answer.
35. English breakfast __: TEA.
37. Outrage: IRE.
40. Very funny sort: CARD.
42. Hostess output: CUPCAKES.
44. It has an eye on TV: CBS.
47. 1980s Panamanian dictator: NORIEGA. Manuel Noriega. The Chilean dictator is Augusto Pinochet.
53. Type, in Calais: SORTE. Similar to our English.
54. Westminster landmark: ABBEY.
55. Jumbles: OLIOS.
56. House shower: C-SPAN.
58. Causes of frequent break-ins?: SPONSORS. Commercial breaks.
60. IBM competitor: NEC.
61. 1942 Philippine battle site: BATAAN. We had this before also.
63. Cold sheet: FLOE.
73. Actor Neeson: LIAM.
74. Fortune-telling aids: TAROTS.
75. One of the fire signs: LEO.
76. Period of the first dinosaurs: TRIASSIC. Is this word related to "triceratops"?
80. State with a panhandle: TEXAS.
81. Plane angle symbol: THETA.
83. Very long time: AEONS.
84. Some corporate jets: LEARS.
92. Where to find an idiomatic pig: IN A POKE. This idiom and "don't look a gift horse in the mouth" are just odd.
93. Family docs: GPS.
94. Widespread: NON-LOCAL.
95. One doing stars, say: APER.
96. Outlaw Kelly: NED.
97. "Ben-Hur" studio: MGM.
98. Starts to negotiate, as a price: ASKS FOR.
100. Clearasil target: ZIT.
102. Formally transfer: CEDE.
105. Opposite of piano: FORTE.
107. Young socialite: DEB.
109. Dependable: SOLID. All our blogging team. So lucky.
119. Fan of Jerry Garcia's band: DEADHEAD.
120. Flea market deal: RESALE. We had lots of fun at the flea market. Did it for many years.
121. Part of a pot: ANTE.
122. __ overload: SENSORY.
123. Absorbs the financial hit: EATS IT.
124. "Enough!": STOP.
Down:
1. Till stack: ONES.
2. Game played in an anagram of itself: POLO. Water polo. Pool.
3. Swear: AVER.
4. What loafers lack: LACES.
5. Burnable medium, briefly: CDR.
6. Dry as a bone: ARID.
7. "Made to be broken" thing: RECORD.
8. Browning's Ben Ezra, e.g.:
RABBI
. See
here
. New to me.
9. Former U.K. recording giant: EMI.
10. Fashion initials: YSL.
11. "__ want for Christmas ... ": ALL I.
12. Hindered, as growth: STUNTED.
13. __City: computer game: SIM.
14. Eclipse shadow: UMBRA.
15. "Streamers" playwright: RABE. Also new to me.
16. School since 1440: ETON.
17. Balance on a card, say: DEBT.
20. Parvenus: UPSTARTS.
22. Bench press muscles: TRICEPS.
23. Seized, as an opportunity: LEAPT ON.
28. Go down, so to speak: OCCUR.
31. Like some turkey stuffing: SAGY. Our 12-pound turkey this year. Tons of sage in the stuffing.
33. Eye care product prefix: OCU.
34. Certain Sooner: TULSAN.
36. ESPN Deportes language: ESPANOL. ESPN "Sports".
37. Joyous way to break out: IN SONG.
38. Surfing wave: ROLLER.
39. Symphony originally dedicated to Napoleon: EROICA.
41. Friend of TV's Sheldon: RAJ.
43. Stay in shape: KEEP FIT.
44. Popular spring break locale, informally: CABO. Cabo San Lucas.
45. Uncle Remus title: BR'ER.
46. Stone and Stallone: SLYS.
48. Wall St. news: IPO.
49. French Oscar: CESAR. Wiki says "The name of the award comes from the sculptor César Baldaccini (1921–1998) who created it."
50. "Barnaby Jones" star: EBSEN.
52. Numerical prefix: OCTA. Prefix for "eight".
57. Frisk, with "down": PAT.
59. Rio greetings: OLAS.
61. Partial view?: BIAS. Not "Not total" partial.
62. Lombardy-based football club:
AC MILAN
.
Sponsored by the Emirates Airline. There are things that money can buy.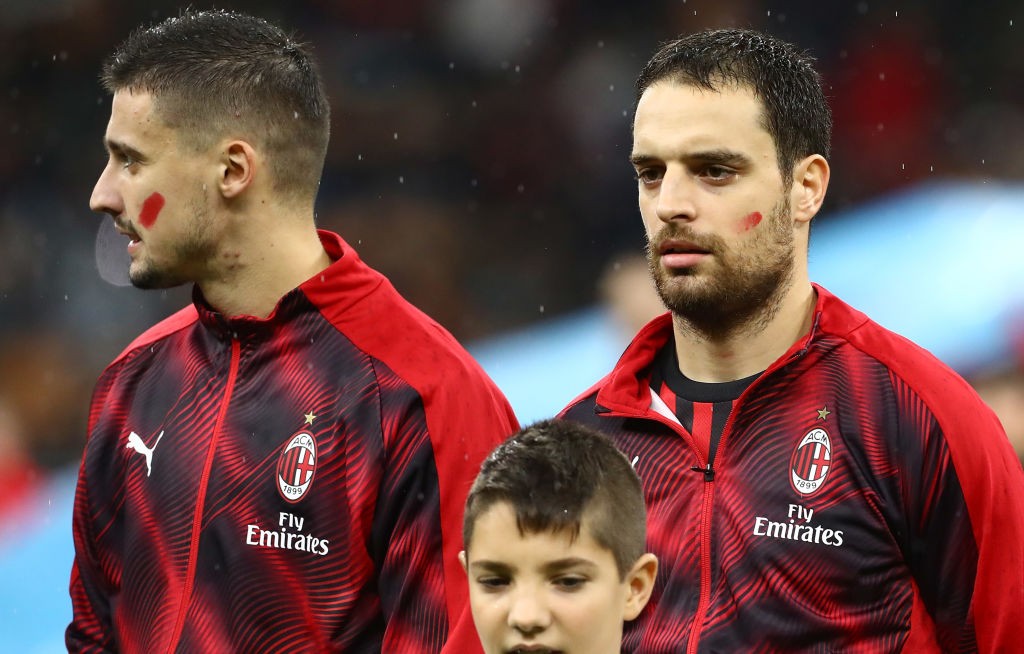 65. Nursery item: PLANT.
66. Sound of disapproval: HISSING.
67. Early rock horn: SAX.
68. Face-to-face exams: ORALS.
69. Toledo thing: COSA.
70. "Little House" family name: OLESON. Nellie Oleson.
71. Second shot: RETAKE.
72. Sounded ghostly: MOANED.
74. Green cars: TESLAS.
76. Sharp flavor: TANG.
77. Harvest: REAP.
78. Markers: IOUS.
79. Like many fine wines: CELLARED. Not a word I use.
80. Deked, say: TRICKED.
81. Bolshevik's foe: TSARIST.
82. March opening: HUP.
85. "He's __ notable coward ... ": Shak.: A MOST.
87. Speed: ZIP.
88. Santa __ Valley: California wine region: YNEZ.
90. More cozy: COMFIER.
91. Polar helper: ELF. I absolutely love this time of the year. Everywhere is so festive.
95. Sites for fights: ARENAS.
97. Patches up: MENDS.
99. Horace, for one: ODIST.
101. "Animal House" party attire: TOGAS.
102. Some UPS deliveries: CODS. Cash on Delivery.
103. Duel tool: EPEE.
104. University VIP: DEAN.
106. "Just __ is not __": AT&T slogan: OKAY.
108. Island near Java: BALI.
110. Mardi Gras follower: LENT.
111. Liking: INTO.
112. Insightful: DEEP.
114. Old reciprocal electrical unit: MHO. Now called a siemens.
116. Mt. Hood's home: ORE.
117. __ culpa: MEA.
118. Bottom line: NET.