Theme
B-ing
- punning on the B-present participle riff:
18A. Flashy accessories for a vagabond?:
BUM BLING
37A. Barn extension where pack animals sleep?:
BURRO WING
. This was the one that set me on the theme path.
61A. Heckle musician Gordon Sumner?:
BOO STING
. A lot of musical references from my youth today. Sting was a substitute teacher before the Police broke, my sister worked with him at a comprehensive school in South London.
3D. Owner of the most pubs in town?:
BAR KING
45D. Warning at a spelling contest?:
BEE PING.
That reminds me, I must change the batteries in my smoke detectors.
When I collected the theme entries together, I just wanted a "BI-" to complete the vowel set, but it was not to be. Understandable, the only candidate I could find was replacing "BUMBLING" with "BIASSING" and I'm not sure how to clue that one. So fair enough, Gary, a good puzzle with a nice theme.
Let's tread the boards:
Across:
1. Troubleshoots, as programs:
DEBUGS
. Been there, done that. Back in the day, it was also known as "dump cracking" which involved going though a two-foot pile of fan-fold paper with a highlighter and a ruler looking through the memory dump of the mainframe. I got pretty good at it. Probably because I was pretty good at putting the bugs in there in the first place. The very first program I wrote had an infinite loop, but I still managed to make a career out of IT. I laughed when I first went to present at Apple HQ, their address was "One Infinite Loop", I felt they'd named the campus for me.
7. Sharp humor:
WIT
10. Rain protection:
TARP
14. Marked by twinkling:
STARRY
15. Brian of ambient music:
ENO
. U2 producer of note, and elevator music king. He was a founder member of Roxy Music,
here
playing synth in spangly gloves with a youthful Bryan Ferry. Talented chap.
16. Diaper cream ingredient:
ALOE
17. Like nickels, to dimes:
LARGER
. Yes, why is that? I want my currency to get heftier the more valuable it is.
20. Swedish retail giant:
IKEA.
I went to my local IKEA a couple of weeks ago. It's legendary that the store is impossible to find your way out of, but on the way back to my car a lady asked me how to get out of the parking lot. I tried to explain, but realized I had no idea either. I did help her figure out which of her stop lights was out though, so something good came of it.
21. Runs of luck:
STREAKS
. Good or bad.
22. "Moonlight" Oscar winner Mahershala:
ALI.
Thank you, crosses.
23. Most smooth:
SUAVEST
. Nice word.
25. Put to use:
TAP
. As "tap into".
28. Most likely to snap:
TENSEST
. Two "mostests" within a couple of entries.
30. One-named singer with 15 Grammys:
ADELE
. She helped fix my ALL-STAR/A-LISTER mess at 11D
32. "By that logic ... ":
ERGO ...
33. Wrongdoing:
SINS
36. Ventricular outlet:
AORTA
40. Martin Van __:
BUREN
43. "Heavens to Murgatroyd!":
EGAD!
44. Trails off:
EBBS
48. Astrologer to the rich and famous:
O'MARR
. Known to me only from crosswords.
49. Tasty bites:
MORSELS
51. Boston's Back __:
BAY
52. French chef's "Ta-da!":
ET VOILA!
56. Years on end:
EON
57. Potato gadgets:
MASHERS.
I use a ricer, a little more effort but a lot smoother result. If I want chunky mash I use the old fork technique.
59. Crunch at breakfast:
CAP'N
63. Sex therapy subject:
LIBIDO
. Rich is getting racier in his editing.
65. Mom's sister:
AUNT
66. Greek letter:
ETA
67. Close soccer score:
ONE NIL
To the Arsenal. Last week's "Man. U." rivals reappear. If you want to know what Arsenal, One-Nil, the USSR and the
Pet Shop Boys
have in common, then you either have too much time on your hands, or you will Google "One-Nil to the Arsenal" as I did.
I'm usually judicious with my links, but this week there's too much good music, or weirdly awesome music, to ignore.
Producer: What effects do you want in this video?
Pet Shop Boys: Yes!
68. Calf-length skirt:
MIDI
69. French film ending word:
FIN
70. Packed (in):
WEDGED
Down:
1. Broadband initials:
DSL.
Digital Subscriber Line. It seems a little old-fashioned, but I still have DSL broadband.
2. Online seller:
E-TAILER
4. Impel:
URGE
5. Musical set at Rydell High:
GREASE.
Los Angeles does have some wonderful Art Deco public buildings, this is Venice High School, one of the locations used in the movie to represent Rydell High.
This is my local power distribution station built in 1949 on Cahuenga Avenue in North Hollywood. We don't build 'em like that any more, more's the pity. I admire it every time I drive past.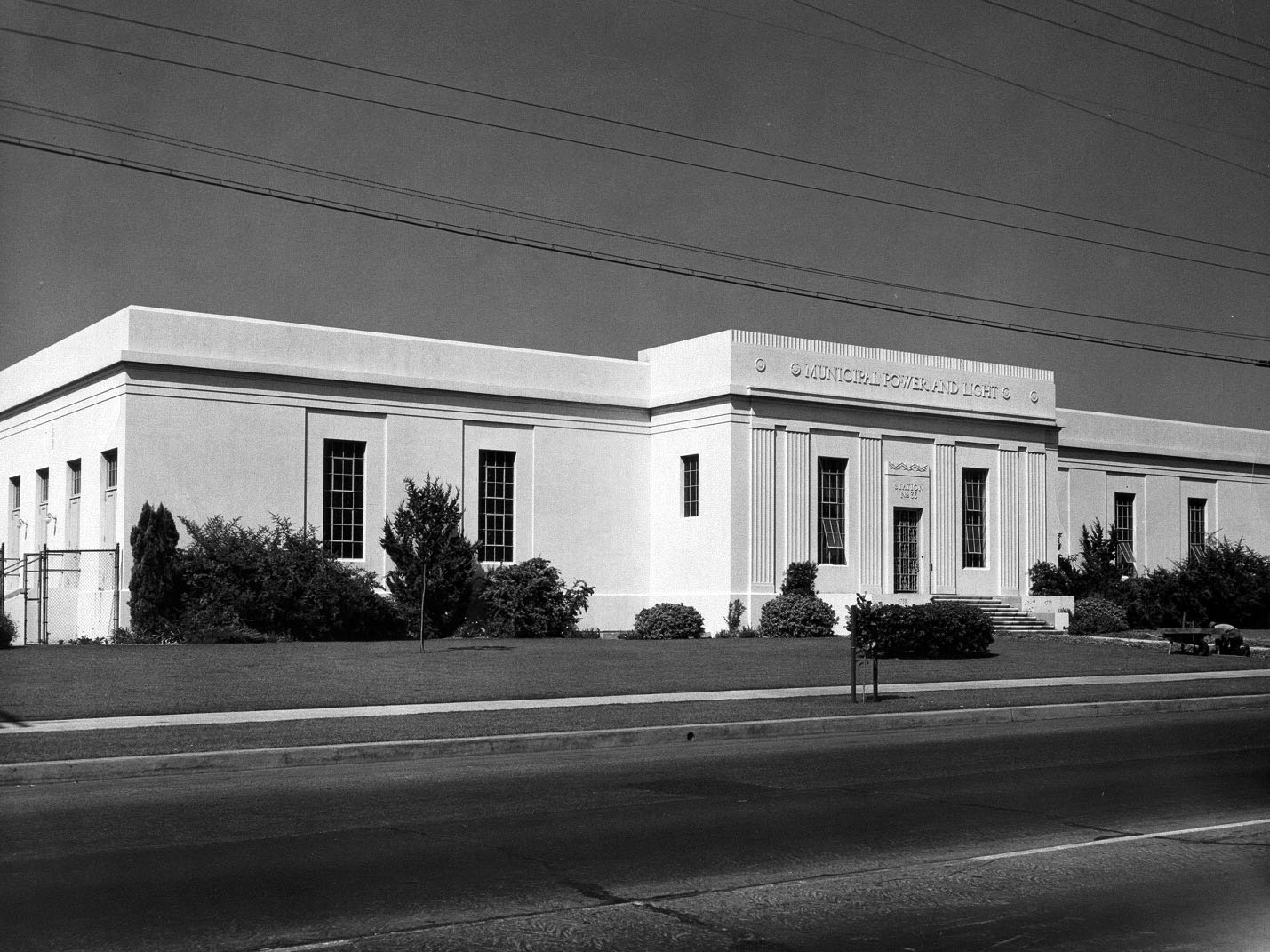 6. Turk. neighbor:
SYR
, Syria, to Turkey.
7. Streaming services, e.g.:
WEB TV
8. Accustom (to):
INURE
9. Some library volumes:
TOMES
10. Chitchat:
TALK
11. Big-time celeb:
A-LISTER
. I went with "ALL STAR" first, then gradually backed off as it slowly didn't work with anything else.
12. Youngest Weasley brother:
RON
. I didn't know he had brothers. Not a problem, I doubt any of the siblings are well-known enough to make the crossword.
13. Mastermind game piece:
PEG
19. WWII Philippine battleground:
BATAAN
21. Genre with bite:
SATIRE
22. Had a bite:
ATE
24. KGB country:
USSR
. "Go West! (with the Pet Shop Boys), Go West!"
26. Bottom-row PC key:
ALT
27. Samosa veggie:
PEA
29. Like a designated driver:
SOBER
31. Venetian magistrates of yore:
DOGES
. Nice living quarters, too.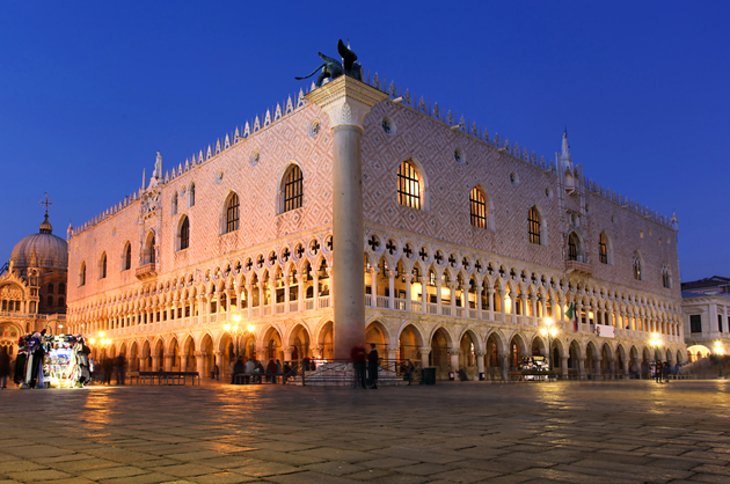 34. Holiday quaff:
NOG
35. Hindu masters:
SWAMIS
38. Turmoil:
UNREST
39. Show that launched Clay Aiken's singing career, familiarly:
IDOL
. The "American Idol" talent show. I'm sure that I must have heard some of Mr. Aiken's output, but I couldn't name a song from him if my life depended on it.
40. Move up and down:
BOB
41. Actress Thurman:
UMA
. One of those entries you might as well just print in the grid and have done with it.
42. Novelist Chandler:
RAYMOND
46. Deborah Harry's band:
BLONDIE.
I saw Blondie live at Hammersmith Odeon in 1978. I was quite taken with
Ms. Harry
. I think it's OK to confess at this temporal distance that I was smoking weed before the gig which might have something to do with me thinking they were the best band I'd ever seen. I was distressed to discover later that she was dating the guitarist. Oh, the innocence of youth.
47. Tax form ID:
SSN
50. Wisconsin city north of Chicago:
RACINE.
Aren't all Wisconsin cities north of Chicago? Just wondering ... I suppose north and north-west.
53. Fence supplier:
THIEF
. Nice clue. A fence traffics stolen goods, hence "thief".
54. Starbucks size:
VENTI
. I always forget the sizes in Starbucks, or maybe never bothered to remember them. "Small", "Medium" and "Large" work just fine.
55. "In-A-Gadda-Da-Vida" instrument:
ORGAN
.
Producer: How many solos do you want on the track?
58. Spot of wine?:
ASTI
. Nice clue for an old crossword staple.
60. Under the covers:
A-BED
. Best use of the word comes in the eponymous monologue in Shakespeare's "Henry V"
We few, we happy few, we band of brothers;
For he to-day that sheds his blood with me
Shall be my brother; be he ne'er so vile,
This day shall gentle his condition:
And gentlemen in England now a-bed
Shall think themselves accursed they were not here,
And hold their manhoods cheap whiles any speaks
That fought with us upon Saint Crispin's day.
61. Collision sound:
BAM
62. Arles assent:
OUI
63. Almost empty:
LOW
64. Ancient:
OLD
And with that, I think I'll disappear down the YouTube rabbit hole for a while and re-live the 70's and 80's.
Here's the grid! Et
Fin
Steve