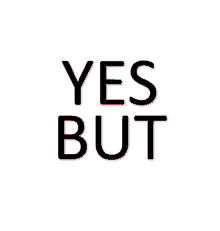 Good Morning, Cruciverbalists. Malodorous Manatee here with the Friday recap. I have been (and will be) traveling and want to thank those who have, and will, pinch-hit for me.
Today's puzzle setter is David Zachary Levy whose work has appeared here several previous times. His themes have always been clever and this one does not break with tradition. Let's start with the reveal:
53 Across: "Without a doubt!," and a hint to 20-, 31-, and 41-Across:
NO BUTS ABOUT IT
. At the three identified places, David has removed the word
BUT
from descriptive words that we have all heard before and, thereby, created appropriate answers to the clues.
20 Across: Result of an overzealous stylist?: FLYING TRESSES. FLYING BUTTRESSES Think Notre Dame de Paris:
31 Across: Result of a "Moonstruck" actress converting to Judaism?: KOSHER CHER. KOSHER BUTCHER
41 Across: Indulge in many, many naps?: SNOOZE TONS. SNOOZE BUTTONS Not snooze GOBS (36 Across).
This is how everything appears in the grid:
The rest of the clues and answers:



Across:


1. Alluring: SEXY.

5. One rocking a pocket protector: DWEEB. GEEK and NERD were both too short.
10. Cerulean kin:
AQUA
. A color.

14. Neutral tone: ECRU. Another color.

15. Cost: RAN TO. Cost is used as a verb in the clue.

16. Has to: MUST.

17. Crowd sound: ROAR.

18. Four-footed Jetson: ASTRO.
That's ASTRO on the right.
19. Marathon measure:
PACE
. Always set your own pace.
23. Member of the fam:
SIS
. Sister. Got it, bro?

24. Drink that may elicit brain freeze: ICEE.

25. Drudgery: TEDIUM.

28. Genre for the Maytals: SKA.
29. Dispensable candy:
PEZ
.
30. CT scan kin:
MRI
. See also 3 Down.
36. A whole lot (of): GOBS. Tons. Lots. It wasn't going to be A Lot 'cause that was used in the clue.
37. Cary of "Glory": ELWES.
38. Crunch targets: ABS.
39. Angry with: MAD AT. This led to one of those first-fill-with-perps-and-then-wonder "What the heck (in this case) is a MADAT?" moments.
40. Some draft picks: ALES. Not a professional sports reference.
43. Connect: TIE.
44. Sever: CUT.
45. Extra periods, briefly:
OTS
.
O
ver
T
ime
S
46. Got going: SET OUT.
48. Stash of water balloons, e.g.: AMMO. Often clued with a reference to snowball fights.
50. Sci-fi beings:
ETS
.
E
xtra
T
errestrial
S
56. " ... or not": WELP. In modern usage, a "linguistic shrug". Apparently, its use is common on Twitter. No wonder that I had no idea.
58. "Arrested Development" actress Portia de __: ROSSI.
59. Title for Helen Mirren: DAME.
60. Love god: EROS. Would it be AMOR? The perps always tell us which.
61. Wipe out: ERASE. For another take on this:
62. Ready to do business:
OPEN
. Reminded me of one of Cleavon Little's scenes in Blazing Saddles but I could not find a suitable clip.
63. Like the lawn at dawn: DEWY.
Neither Huey, Dewey not Louie Was Correct
64. Stadium toppers: DOMES.
The Original - The Houston Astrodome
65. Coming up: NEXT.
1. Feudal laborers:
SERFS
. Today, we were spared the Liege (sovereign)/Liege (vassal) conundrum.
2. Common source of food poisoning: E-COLI.
3. Shots at a doctor's office: X-RAYS. Shots as in pictures. Nice misdirection in the cluing. See also 30 Across.
4. Gagarin who was the first human in outer space: YURI. Those of us of a certain age remember the event well.
5. Street racer: DRAG CAR. Drag Racer and Dragster have both been heard by this solver. Drag Car? Never, until today.
6. Refuse: WASTE. Refuse as in to say no? No. Refuse as in please place your refuse in the trash can.
7. __ nous:
ENTRE
. Between us.
Cours de français d'aujourd'hui.
8. Basic French verb: ETRE. Un autre c
ours de français d'aujourd'hui.
9. Rocket stage: BOOSTER.

10. Full of energy: AMPED. How do electricians relax after getting AMPED up all day? They chant Oooohhhhhmm.
11. Victor Hugo character: QUASIMODO. The Hunchback of Notre Dame.
12. Sch. near Hollywood: USC. More often, we encounter UCLA clued this way.
13. Devoured: ATE.
21. Air Force 1s, e.g.: NIKES. A nice bit of misdirection. We're supposed to think, at first, of the aircraft not the shoe model.
22. "__ me!": SEZ. A bit of a punt but it does go very nicely with 29 Across.
26. __ sprawl: URBAN. Cow tipping is an URBAN myth. The farmers pay them a competitive rate.
27. Humid phenomena: MISTS.
28. Spike Lee's "__ Gotta Have It": SHES.
29. Chihuahua change: PESO. Not the dog. The Mexican city.
31. "Hyperion" poet: KEATS.
32. Stan's partner in slapstick: OLLIE.

33. Product in pink packets: SWEET 'N LOW.


34. Isn't able to:
CAN'T
.

35. Subsidiary of Warner Bros. Discovery: HBO.

36. Heaters: GATS. Both the clue and the answer are noir movie slang for guns.

39. Empowerment hashtag since 2017: ME TOO. In the news quite a bit over the past several years.

41. Stitched together: SUTURED.

42. "Shaun of the Dead" figures: ZOMBIES.

47. "__-daisy!": OOPSY. I kept trying to make some variant of UPSY work out.

48. Tea region of India: ASSAM. A region often referenced in our puzzles.

49. Pool stroke that may damage the felt: MASSE.
50. Tour de France section:
ETAPE
. Once, again, French.
51. Corporation that began as the Waterbury Clock Company: TIMEX. New to this solver but after the X appeared in 65 Across it was not difficult.
52. Vessel opener: STENT. In this case, blood vessel. Too close to home for this solver. No, not that close. Valerie and I were at the Hollywood Bowl the other night and when we walked to the car our friend, Allan, had a difficult time of it. The next day he received a STENT.
54. Big name in lawn mowers: TORO.
55. Soup noodle: UDON. RAMEN would not fit.
Would it be SOBA? The perps always tell us which.
56. Married: WED.
57. Bard's before: ERE.
Well, that wraps things up for today. I will be back on sabbatical through the end of next month. See you in November.
___________________________________