Before we start, a reminder that if you wish to comment on the puzzles, we have three requests on this blog - no politics, no religion and no personal attacks. Not too difficult, right? Right! Moving on ...
Theme:
Vowel Virtuosity
- the four theme entries have their vowel progressions exactly as described in the reveal:
34A. Children's song refrain featured in the four longest answers:
E-I-E-I-O
.
And so we find:
15A. Good ideas that don't always pan out:
BEST INTENTIONS
. An online dictionary uses "organizing a family reunion" as an example, which makes me a little sad.
26A. "Carpe diem!":
THE TIME IS NOW!
The more literal translation "Seize the day!" breaks all the vowel progression rules for the theme. And it doesn't fit.
40A. GPS suggestion to avoid a tie-up:
NEW DIRECTION
. I was going to link a catchy little tune from the British band, then I discovered they were called One Direction, and then I discovered, after watching a boy band for a couple of minutes, that I didn't mean them at all, I was thinking of One Republic. So there endeth the search for a musical link.
53A. "Both options are practical":
EITHER WILL WORK
. Usually followed by "but ..."
Thank you Jeffrey. The key point with this theme is that the entries have only E-I-E-I-O in that order and no other vowels. Not an easy trick to pull off, but Jeffrey did a great job with it.
Now let's point out a strange coincidence in Crossworld. This exact same theme-reveal was the center of the NYT Tuesday puzzle earlier this week. Obviously, the rest of the puzzle was completely different, but Will Shortz probably scheduled his Tuesday at the very least nine months ago, and Rich Norris maybe scheduled this one four months ago. Sheer coincidence, but I thought I was having a bout of déjà vu when I got to the reveal today! My first thought was "Did I already do this puzzle and forget that I did?" Thankfully no.
Let's go roaming through the gloaming and see what jumps out:
Across:
1. Freebies:
COMPS
.
6. Charity sale goods:
RUMMAGE
. This took a while, it wasn't my first thought but the crosses filled it in slowly.
13. Undefeated Ali:
LAILA
. She went 24-0 in her pro boxing career, and is a knockout chef to boot. A great lady.
14. Cradle-rocking site of rhyme:
TREE TOP
.
17. Eduardo's east:
ORIENTE
. Not sure about this. "East" is "este" in Spanish. "The East" might be rendered as "El Oriente" I suppose, but "The Orient" is now archaic in English. All kinds of uncertainty, but makes for a slightly tricky crossword clue/entry.
18. Only:
SOLE
.
19. Gives the go-ahead:
OK'S
.
20. Championship ice dancer __ Virtue:
TESSA
. Who? Thank you, crosses.
23. Depressed areas:
SLUMS
.
28. Fountain output:
SODAS
.
31. Fuel for a fire:
LOGS
.
32. Vatican's higher authority:
DIO
. I'd have liked some hint in the clue that we were looking for the Italian translation for "God". The Italian for "Vatican" is "Vaticano", so I'm calling this a mistake in cluing/editing.
33. Puts on TV:
AIRS
.
36. Monsieur across the border:
HERR
. Pick your French border - Belgium, Lichtenstein, Germany, Switzerland, Italy, Monaco, Spain or Andorra. I think that's all of them, but I might have missed a couple. Or added one in that doesn't belong. Not bad for a country that's at least 50% coastline.
37. Land in la mer:
ÎLE
.
38. Give a heads-up:
WARN
.
39. Rams QB Goff:
JARED
. Local boy. Now.
44. Characteristic:
TRAIT
.
45. Looks:
SEEMS
.
46. Nor. neighbor:
SWE
.
49. '90s Polish president Walesa:
LECH
. Leader of "Solidarnosc", the shipyard labor union, who became president of the country. The union was instrumental in the ending of communist rule in Poland.
51. Group of groupies:
RETINUE
. I suppose so? I let the crosses fill this in for me.
56. Show contempt for:
SNEER AT
.
57. Objects of fondness:
DEARS
. As in "my dears".
58. Ones of interest, perhaps:
PERSONS
.
59. Thing of worth:
ASSET
.
Down:
1. Register user:
CLERK
.
2. Spring for a drink?:
OASIS
.
3. Somewhat, with "a":
MITE
.
4. Architectural column bases:
PLINTHS
.
5. South Carolina river to the Atlantic:
SANTEE
. Thank you, crosses. Very reliant on these today.
6. GPS datum:
RTE
. I learned my lesson with "STS" last week, so I'll leave all y'all to figure out what a RTE is.
7. Decorative container:
URN
.
8. Team whose mascot's head is a ball:
METS
. Not exactly the most inventive of mascots. His name is "Mr. Met" and he's basically a baseball with arms and legs. His co-mascot is .... wait for it ... Mrs. Met. I'd have a bit of a mascot re-think if I was part of the Mets marketing organization.
9. Cell division that produces gametes:
MEIOSIS
. Thank you, grade school biology.
10. Common Pacific groupings:
ATOLLS
.
11. Failed, as a business:
GONE UNDER
. I had "Went Under" first, but backed out of that pretty quickly when the crosses didn't work.
12. Four-song discs, briefly:
EPS
. Extended Play Records. They were fun, the same size as a regular '45 but two songs on each side.
15. Frightening word:
BOO!
16. Trial:
TEST
.
21. Library ambience:
SILENCE
.
22. Madame's mine:
A MOI
.
24. Optically active pattern:
MOIRE
. You've seen the TV presenters or guests in plaid jackets or certain stripey ties which make moire swirls - you'd have thought by now the producers would step in before they went in front of the camera.
25. Excalibur, for one:
SWORD
. We've been slowly captivated by "Forged in Fire" on the History Channel. I can confidently tell you that Excalibur is a hardened steel blade of approximately 46 inches, with a fuller on each side of the blade, a quillion and a recasso, a grip over the tang and a pommel.
Now I just need to convince myself I can make one, build myself a forge and set fire to the house.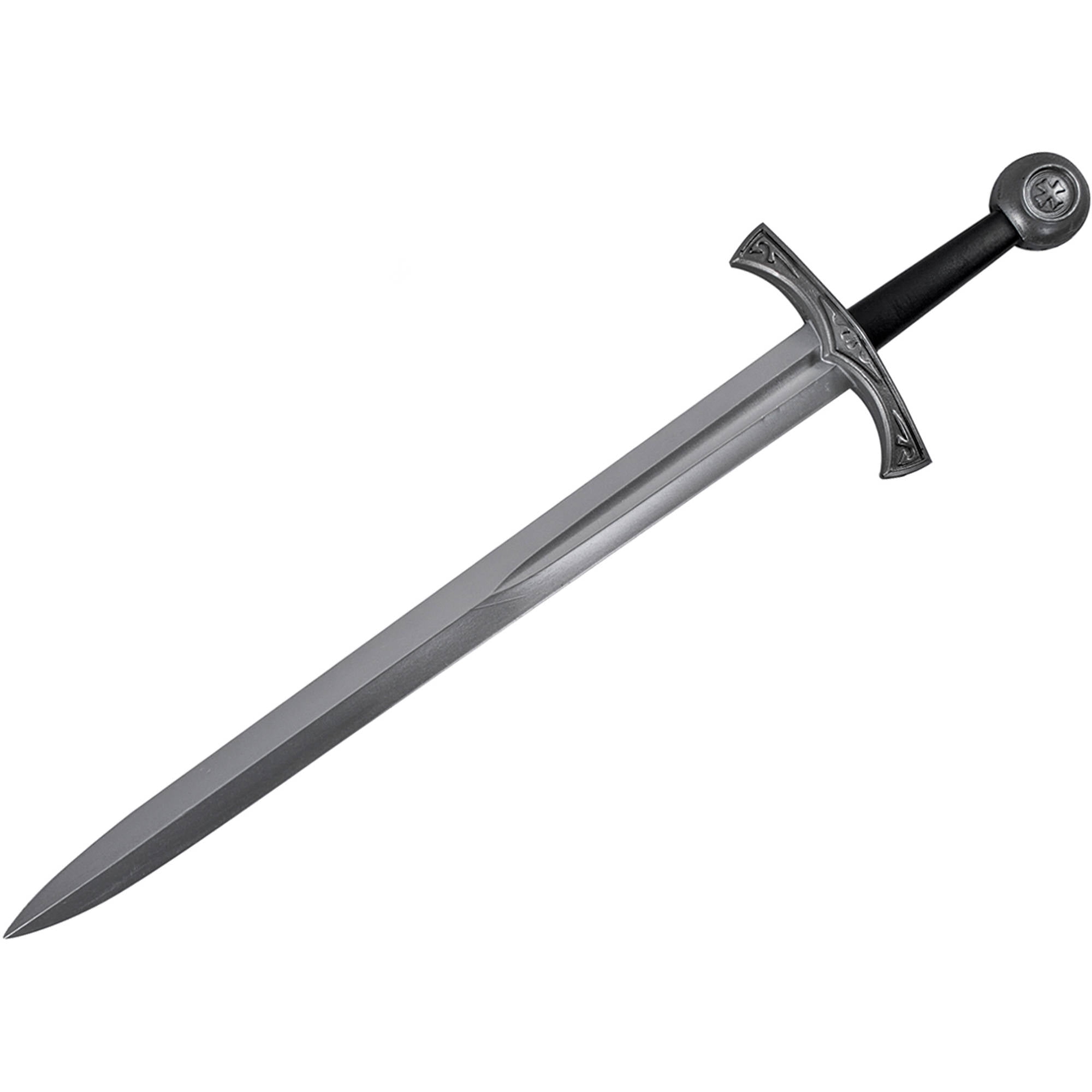 26. Prof's helpers:
TA'S
.
27. A star may have a big one:
EGO
.
28. Venerated figure:
SAINT
.
29. Gulf of Oman vessel:
OILER
.
30. Set boundaries:
DREW A LINE
.
34. Protuberant organ:
EAR
.
35. Elicits a "Grrr!" from:
IRES
. OK. "He ired me!" said no-one, ever. Maybe Dick Van Dyke in "Mary Poppins":
Sweep: 'e ired me, Mary Poppins!
Nanny: What, he gave you a job?
Sweep: Nah, 'e ticked me right orf!
Nanny: Why, did he comment on your terrible cockney accent?
Sweep: 'ah did yew know? I was ired, I was. Makes me want to dahnce wiv me broom. Oi fink oil get a bo'le o' beer and practice me glo'al stops.
36. Solo in space:
HAN
. The "Millenium Falcon" pilot in Star Wars. See, I've been catching up on my LucasFilms sci-fi.
38. First group seen in "Macbeth":
WITCHES
.
39. Fights (through), as a crowd:
JOSTLES
.
41. One with something to lose:
DIETER
. A German who needs to lose weight? Dieter the dieter. Confusing.
42. Polo usually not on horseback:
TERI
. An actress. Thank you, crosses.
43. Former Filipino first lady Marcos:
IMELDA
. She of shoe closet fame.
46. Sleep soundly?:
SNORE
.
47. Hot dog, to a Hamburger:
WURST
.
48. "That scared me!":
EEK!
Boo! and Eek! Scary puzzle today.
50. Often-shared sandwich:
HERO
.
52. "Methought __ enamour'd of an ass": Titania:
I WAS
.
A Midsummer Night's Dream.
53. Debatable ability:
ESP
. Apparently no longer worthy of periods. Do we pronounce it "esp" now?
54. Headed for the hills:
RAN
.
55. Lb. and oz.:
WTS
. Weights, but of course you all knew that.
And lo, we find ourselves at the end of our roam. Here's the grid!
Steve
Note from C.C.:
Happy Birthday to Spitzboov's lovely wife Betty! Here's a picture of Spitzboov, Betty and Argyle at the Washington County Fair on August 23, 2014. Argyle was eating blooming onions.