Theme: DOWN PAYMENT (25D. Typical mortgage requirement, and what ends each answer to a starred clue)
3D. *Grade-boosting option:
EXTRA
CREDIT
.
8D. *Singer's spouse who co-wrote "Ring of Fire":
JUNE CARTER
CASH
.
14D. *Chess situation that forces a draw:
PERPETUAL
CHECK
.
Boomer here.
Good morning or afternoon as the case may be. Last week was fairly uneventful. Lots and lots of snow. I had a VA appointment last Wednesday. Only took about 25 minutes for the trip West at 7:30 AM, but leave the clinic and head back toward Minneapolis while many were on their way to work, was a solid hour. Free snow for everyone! Just bring an ice chest or a trailer and a shovel and take as much as you want off my yard!
Across:
1. Org. whose product is measured in barrels: OPEC. Gas prices are still affordable here, about $2.00 per gallon of 87 regular. I have heard the federal government is considering a small gas tax to fix roads and bridges.
5. Pillar of Islam involving travel: HAJJ.
9. School near Windsor Castle: ETON.
13. Hugs-and-kisses symbols: XO XO. My sister signs cards this way sometimes.
14. Pacific island host of two "Survivor" seasons: PALAU.
15. Medical image: X-RAY. This must then be a kiss by the sun.
16. Analogy words: IS TO. IS NOT!
17. Modern John Hancock: E SIGNATURE. Mr. Hancock is very famous for signing the Declaration of Independence so that King George can read it without his spectacles.
19. Epithet never actually used by Jimmy Cagney: DIRTY RAT. Rumor has it that he said "You Dirty Mouse."
21. Angsty music genre: EMO.
22. LAX posting: ETA. MSP posting is indeed "estimated" depending on when they get the snow cleared from the landing runway.
23. Elect (to): OPT.
24. Dressed down: SCOLDED.
28. Songwriter Porter: COLE. Yes, but my favorite Cole is Mr. Nat King.
30. Frightening: FEARSOME. This could be the "Fearsome Foursome" defensive linemen of the Minnesota Vikings in the 1970s. Honored on the "Ring of Honor" at U.S. Bank Stadium. Includes Notre Dame Grad Alan Page who went on to become a judge. What is interesting, Alan was born in 1945 in Canton, Ohio. His Hall of Fame honor will be there forever.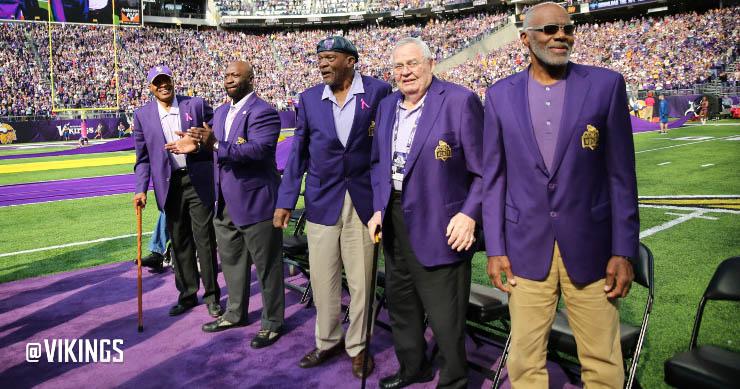 31. Red wine choice: MERLOT.
33. Fairy tale baddie: OGRE. My fairy tales only had Big Bad Wolves.
34. Be victorious: WIN.
35. Was in debt to: OWED. "I owe, I owe, so off to work I go."
36. WWII naval threat: U-BOAT. This was a Nazi submarine. Abbreviation "Underwater boat."
38. Picnic invaders: ANTS. Also pants invaders.
39. Grass roll: SOD. These things are heavy and hard to work with. Seed takes longer but it is light and easy to apply.
40. Shopping complex: MALL. Of course, on the old site of Metropolitan Stadium, 60s and 70s home of the Vikings and Twins, now stands the Mall of America. It's huge with many stores but it's a bit of a tourist trap. C.C. and I have been there a number of times. It's a nice place to visit, but I wouldn't want to spend there.
41. Go by, as time: ELAPSE.
43. They're planted in snow while skiing: SKI POLES. Oh, I thought they were people from Poland who like to ski.
45. Civil rights icon Parks: ROSA. Highly respected!
46. Largest living bird: OSTRICH. True, and also lays the largest eggs.
47. Emails a dupe to: CCS. Not to be confused with C.C.'S
48. Couture initials: YSL.
51. Tapped-off cigar remnant: ASH. I mentioned my friend George Ash last week.
52. Hours for cuppas: TEA TIMES. I am a golfer. I suppose the leaders get the later ones? Just kidding.
54. Cord cutters' reception aids: TV ANTENNAS. I think you need to be my age to remember these. We have a dish on our roof right now, Many people have their shows delivered by cable.
58. Air filter acronym: HEPA. High Efficiency Particulate Air.
59. __ hop: gym dance: SOCK. We had Sock hops in High School. The idea was to take off your shoes so you would not scar the gym floor. (Most left their shoes on however.)
60. Infatuation: CRUSH. Orange soda, yum.
61. "I'll take care of that": ON IT.
62. Log splitters: AXES. Paul Bunyan was not an Axe. But I have heard that he split a few logs in his day.
63. Spade of handbags: KATE. I am not a handbag expert, but I have heard Kate Smith sing the National Anthem once or twice.
64. Education support gps.: PTAS. Let me tell you of the story of a Harper Valley's widowed wife.
Down:
1. Nitrous __: OXIDE. Sounds like the name of a laundry detergent.
2. Theorize: POSIT. I remember a German toast "Prosit" I think.
4. Crotchety oldster: COOT. That's me!!!
5. Attacks: HAS AT.
6. Got off a horse: ALIT.
7. XKE, for short: JAG. "I was cruisin' in my sting ray late one night, when an XKE pulled up on the right. Won't come back from Dead Man's Curve." Jan and Dean.
9. Raves about: EXTOLS. Many EXTOL their work on crosswords!
10. Play about Capote: TRU. Stock ticker symbol for TransUnion.
11. Rowing tool: OAR. "Merrily, Merrily, Merrily, Merrily, Life is but a dream."
12. TV scientist whose show has won 19 Emmys: NYE. Bill.
18. Love, to Luigi: AMORE. "When the moon hits your eye like a big pizza pie" Deano
20. "Carpe diem" initials: YOLO. You Only Live Once.
24. Game Gear creator: SEGA. I never got past Nintendo.
26. Gives off: EMITS.
27. Closely packed: DENSE.
29. Out-of-date: OLD. Here I am again!!
30. Deceives: FOOLS. If you bluff in a poker game and get called, the fool could be you.
31. Meno __: not as fast, in music: MOSSO.
32. Furry C-3PO worshipers: EWOKS. I never was one of those Star Wars fanatics.
37. "Eww!": BLEH.
38. Small batteries: AAS. AAAs are smaller. An Ass is much larger.
40. Somewhat wet: MOIST. Yup, we have moist snow on the ground.
42. Nowhere to be found: LOST.
44. Practical jokes: PRANKS. April 1st is sooner than you think.
47. __ and desist: CEASE.
49. Vintage photo tone: SEPIA.
50. Exams for aspiring judges, briefly: LSATS. I took an SAT test in High school. I think it is an acronym for Standard Aptitude Test, but we did not have to stand when we took it.
52. Item listed above "u-bolt" in a hardware glossary?: T NUT. Sometimes called a TEE NUT. That's what I am, waiting for the snow to melt -- "FORE".
53. Blue-roofed eatery: IHOP. International House of Pancakes. Delicious, but they sell flavored pancakes for about a buck apiece, and a 25 cent cup of coffee for about $2.00. Maybe the owner will be running for president soon.
54. Airport safety org.: TSA. I am very happy that they are back to work and getting paid.
55. __ populi: popular opinion: VOX.
56. Blackjack half: ACE. Ace is the place with the helpful hardware man.
57. Gun lobby org.: NRA.
Boomer