Theme: NO NO (59. Forbidden thing, and what each of four long answers is?)
20. Misdeed exculpation: NO HARM NO FOUL.
29. Done tidily and without stress: NO MUSS NO FUSS.
46. Precisely: NO MORE NO LESS.
56. Exercise mantra: NO PAIN NO GAIN.
Boomer here.
I noticed that there were ten (count'em) TEN "nos" in today's puzzle. I believe that is a no no. I hope you all had a great Groudhog Day and if you missed the Bill Murray movie, I think it was on 6 cable channels Saturday. We had a typical Minnesota week this past 7 days, but I also noticed that a huge section of the country had the same. We got about 30 below on Tuesday and Wednesday, then a thaw on Saturday and Sunday.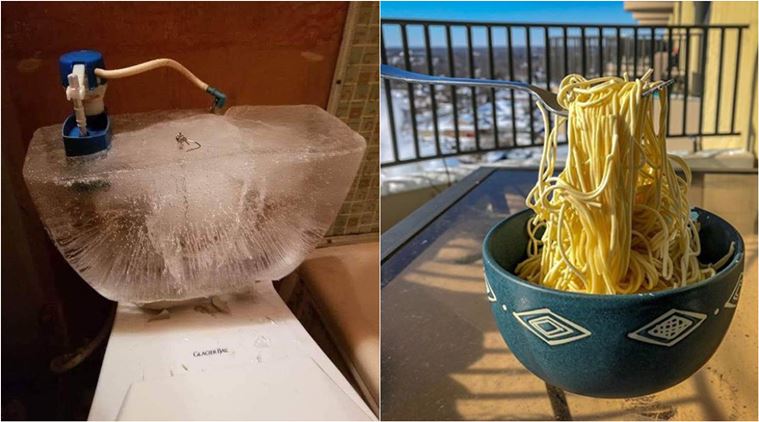 Exploding toilet tank & Frozen noodles
My bowling was postponed due to weather last Monday and Thursday was not the best or worse.

Last but not least, condolences to the L.A. Rams. They played a pretty good game but were scratched by the Superb Owl and upended by the Brady Bunch. I was disappointed by the commercials. Although nothing will ever compare to Betty White playing football with Abe Vigoda. Shame on Budweiser for hiring someone to sing "Blowin' in the Wind" while trying to sound like our Minnesota native Robert Zimmerman, aka Bob Dylan. I have listened to Mr. Dylan for years and that was not his voice in the Bud Commercial.

Across:
1. Gather in a pile: AMASS. I go every Sunday but we don't pile into the church.
6. City transport: BUS. Add an "S" and you may have a fuse.
9. Assume the role of: ACT AS.
14. Dashed in the direction of: RAN TO. Sounds like a role for Sylvester Stallone.
15. Fireplace remnants: ASH. Once there was a tobacco store in a mall in Minnesota. The proprietor was George Ash. The name of the store was Ashes. Really! You could bring in your pipe and sample his stuff.
16. Baseball's home __: PLATE. Yeah, but it is made of rubber, and not the shape of a glass or ceramic plate.
17. Military decoration: MEDAL. Everyone who serves gets one or two, however a bronze star or silver star is special.
18. China : cha :: U.S. : __: TEA. "Cha for two and two for cha"
19. Resistance member: REBEL. Johnny Yuma was one.
23. Garden product word: GRO. Really have never seen this. But be careful with "Roundup"
26. Lyricist Gershwin: IRA. If you have money in one, it is not taxable … yet.
27. Ages and ages: EON. Should it not be "EONS" ?
28. Word after photo or black: OPS. Reminds me of Donald Sutherland in "JFK"
33. Skillful: ADEPT.
34. Early riser?: SUN. I notice it does not rise so early in winter. Maybe Punxsutawney Phil did not see his shadow. Then we will only have 5 weeks and 6 days of winter left.
35. Wyatt of the Old West: EARP. My sister Barbara was a HUGE Hugh O'Brian fan.
39. Bedouin abode: TENT. How much is Five T plus Five T.
40. Takes out the sloop: SAILS. Beach Boys sailed on the Sloop John B.
42. Classic cookie: OREO. The favorite treat of Crossword constructors everywhere.
43. Mediocre: SO SO. The favorite denial of my wife, C.C.
44. Suffix with alp: INE. If you have not yet heard, Minnesota's favorite woman ALPINE skier, Lindsey Vonn has announced retirement.
45. Models for some Adam and Eve art: NUDES.
50. Texter's "I believe": IMO.
53. Louis XIV, par exemple: ROI.
54. Badminton partition: NET.
55. Originally called: NEE. Maybe too many three letter answers ??
60. Minotaur's island: CRETE. This was a question in Saturday's Pogo Trivial Pursuit.
61. Overtime cause, in sports: TIE. Also neckwear of which I have thirty, and wear one or two per year.
62. Seashore: COAST. This is C.C.'s favorite soap bar. I like Irish Spring.
66. Brother of Moses: AARON. Also the surname of Hank who hit 755 MLB home runs. Coincidentally, now there is AARON Judge who may approach Hank's record someday.
67. Right-angled pipe shape: ELL. Generally 90 degrees.
68. Came to a conclusion: ENDED.
69. Slope: SLANT.
70. Prefix with -lexic: DYS.
71. Gives medicine to: DOSES. We covered this last week.
Down:
1. Pitcher's asset: ARM. And probably a million dollar home and a BMW.
2. West of "My Little Chickadee": MAE.
3. Plus: AND. "Two AND two are four, four AND four are eight. AND what did you learn in school today, dear little boys of mine?" (Tom Paxton)
4. Ollie's partner: STAN. Oh how I loved the reruns of Laurel and Hardy when I was a kid. When I visit a friend in the hospital, I always bring hard boiled eggs and nuts.
5. Single singer: SOLOIST. Yes I was, in the Benilde High School Glee Club. My best was Poor Old Charlie on the "MTA".
6. WWII Philippine battleground: BATAAN. Very tough duty. My father served there as a medic.
7. Manipulative sort: USER.
8. Causing disgrace: SHAMEFUL.
9. Cooks' protective wear: APRONS.
10. Sheet music symbol: CLEF.
11. Forbidden: TABOO.
12. Consumed eagerly: ATE UP.
13. Disposes of on eBay: SELLS. "She sells sea shells on the sea shore". Say it 5 times really fast.
21. 60-min. periods: HRS. Hank Aaron and Aaron Judge's stats.
22. Subjects, usually, in grammar class: NOUNS. "Twas' the night before Christmas and all through the house.. NO UNS was sleeping, not even a mouse. And not even Talullah's brudder in law and he's a rat."
23. Bitty biters: GNATS. The DC MLB Baseball team is sometimes called the Gnats.
24. Show with horses and bulls: RODEO.
25. Warning signs: OMENS.
30. Model Kate married to Justin Verlander: UPTON. Pitchers get all the girls.
31. Willow twig: OSIER.
32. South Korea's capital: SEOUL.
36. Elizabeth of cosmetics: ARDEN.
37. Creator of yummy "pieces": REESE. Creator of yummy Yankee stories, Pee Wee.
38. Entourage: POSSE.
40. Do what he says or you lose: SIMON. Simon says "The words of the profits are written on the subway walls," and Garfunkel says , "And tenement halls."
41. Made sacred, as with oil: ANOINTED.
45. Observed: NOTICED.
47. "Murder on the __ Express": ORIENT. Minneapolis story. Years ago Northwest Airlines was "Northwest Orient" now it's known as "Delta". Big airlines get swallowed up by bigger ones.
48. Marx co-author: ENGELS.
49. Cultural funding org.: NEA.
50. Machu Picchu builders: INCAS. Remember Jimmy Durante ? Inca Dinka Do.
51. Point of a fable: MORAL.
52. Wagner work: OPERA. Spend a night there in 1935 with the Marx Brothers. Were Groucho, Zeppo, Chico and Harpo their real names??
57. Huge amount, as of homework: A TON. Load 16 of them and Whaddaya get. Another day older and deeper in debt. Was "Tennessee his real first name"?
58. Slick, like a garage floor: OILY. If your oil pan leaks and you don't get it fixed you may deserve to slip on your garage floor, after you buy a new engine.
63. Spots on television: ADS. "Spots" is very kind. Some last over a minute and all are BORING !
64. Understand: SEE.
65. NFL scores: TDS. A scant one in this years big game.
Boomer