Theme:
Minor to Major
- The nouns at the start of the theme entries age gracefully:
16A. Mature gentle treatment?:
GOAT GLOVES.
Kid Gloves
26A. Mature sprightly piano classic?:
CAT ON THE KEYS
. Kitten on the Keys. This was new to me. I discover it's a ragtime piece by the splendidly-named Zez Confrey.
35A. Mature young infatuation?:
DOG LOVE
. Puppy Love. Then-teenybopper Donny Osmond broke into the UK pop charts with this Paul Anka song which reached number 1 in 1972, much to my disgust. I was growing my hair and putting my head between the speakers listening to rock, much to the disgust of my father. Happy days!
45A. Mature news newbie?:
BEAR REPORTER
. Cub Reporter. I like that old reporters are sometimes described as "grizzly" which aligns nicely with this theme entry.
59A. Mature "Agnus Dei" translation?:
SHEEP OF GOD
. Lamb of God. Food! Wait, no, sorry.
Nicely done by Paul. It was the newshound entry that tipped me off as to the theme, so a quick job was made of the blanks in the themers to that point. Plenty of sparkly fill to keep us happy too.
Across:
1. Correspondence sign-off:
BEST
. "Best wishes, Steve". What happened to worst and average wishes?
5. Musical series set at McKinley High:
GLEE.
Didn't see the show, but it pretty much filled itself in.
9. "Wealth of Nations" author Smith:
ADAM.
The father of economic theory. Published in 1776 this was required reading in my Economics class. We all read the Cliff's Notes version, naturally.
13. Pot for paella:
OLLA.
Crying foul here. Nothing wrong with the word, but the clue. Paella is made in a pan, not a pot which is more for casseroles.
14. Speaks up?:
PRAYS
15. Bit of folklore:
TALE
18. B'way hit signs:
SROS
. What? Is this a thing? "Standing Room Only" in the singular. As an aside, do they still have standing areas in Broadway theaters? I guess it depends on the production.
19. News letters:
UPI
. Our old (or new friend from last week) United Press International.
20. "Have some":
EAT!
21. Decides not to dele:
STETS
. Used as a verb - I stet, you stet, he/she/it stets.
22. Bodega miss:
SENORITA
25. Roe-producing fish:
SHAD
30. Canaanite deity:
BAAL
32. Half a cocktail:
TAI
. The Tai-mai. Lime juice, pineapple, orgeat syrup, curaçao, rum. You mix the ingredients in the reverse order for a Mai-tai. Just kidding.
33. Handler of "Sex and the City":
EVAN
34. Costa del __:
SOL
39. Taking a sick day, presumably:
ILL
. Because "ditching work to go to the beach" doesn't fit.
40. Trivial, as talk:
IDLE
42. Versailles ruler:
ROI
43. Mouselike animal:
VOLE
49. Salty margarita glass spots:
RIMS
50. Low-alcohol beverage:
NEAR-BEER
. Beer-flavored soda in other words. Sounds very appetizing.
54. Dries gently:
BLOTS.
Here's an great example of how crossword clues make you re-adjust your thinking. "Dries" in the passive voice leads you to the likes of "evaporates". In the active voice you find yourself blotting a spill. Little clue, small word, great stuff.
56. French menu word:
JUS
. One of my pet peeves is hearing someone saying "with au jus". Steak au jus already means "with the juice". You don't say "steak with au poivre" so quit with the with. So to speak. Grumble over.
57. Singer Grande's perfume brand:
ARI
. Ariana was in the news last week showing off her new tattoo, which was intended to be "7 Rings", the title of one of her hits, in Japanese. Unfortunately, the tattoo artist missed out a character, with the result that she was sporting something that read "Small charcoal grill". She tried to fix it, and today now reads "Small charcoal grill finger ♡". She's getting tired of people laughing about it.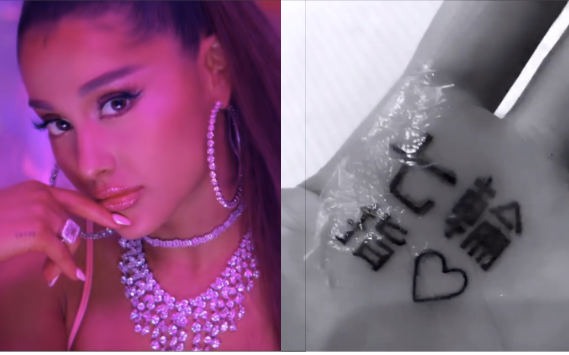 58. "__ move":
YOUR
63. Air:
TUNE
Another echo from last week. Do you think you don't know "Londonderry Air"?
Yes you do.
64. Word with offering or officer:
PEACE
65. "Who __ knows?":
ELSE
. If more than one person knows, it's no longer a secret.
66. Scandinavian literary work:
EDDA
67. Lie next to:
ABUT
68. Wedding couple?:
DEES
. Double-D. Nice clue.
Down:
1. Phony:
BOGUS
2. Run secretly to the chapel:
ELOPE
3. Dispatched, as a dragon:
SLAIN.
Or a Jabberwock:
And hast thou slain the Jabberwock?
Come to my arms, my beamish boy!
O frabjous day! Callooh! Callay!"
He chortled in his joy.
Lewis Carroll, "Jabberwocky"
4. Ankle pic:
TAT
. Painful spot for a tattoo, I'm told.
5. Cavern:
GROTTO
6. Brit's facilities:
LAV
. Tried LOO, was wrong.
7. Bud on a spud:
EYE
. The start of a new potato plant.
8. Snaky curve:
ESS
9. On the line:
AT STAKE
10. Stunt performer, say:
DAREDEVIL.
I get queasy watching people do things at a height, just watching gives me vertigo.
11. Boatloads:
A LOT
12. Food in a hall:
MESS
14. Braid:
PLAIT
17. Notable Ford of the '70s:
GERALD
. Of course, I was on the Mustang muse at first. Nice clue.
21. "__ Persisted": children's book about inspirational women:
SHE
23. Andean tuber:
OCA
24. Pit-digging insect:
ANTLION
. I've never come across this little beastie before. The larva are the pit-diggers to trap their prey. The adults are pretty lacewing types.
25. Handmade blade:
SHIV
. Especially one made in prison.
27. Eastern "way":
TAO
28. Second-oldest Ivy:
YALE
. Here's another one you might just pre-print in the grid with a clue like this. How many Ivies have four letters? Just one.
29. NBC show since 1975:
SNL
30. Portend:
BODE
31. Versatile:
ALL-AROUND
. To me, this has one specific use - it relates to the gymnastic competition. I'd call someone versatile as an "all-rounder". Slightly different.
34. Bro or sis:
SIB.
36. Rich rocks:
ORES
37. Political initials since 1884:
GOP
. I started toying with presidents' initials, then the penny dropped with a clang.
38. Exceedingly:
EVER SO
41. Asmara's nation:
ERITREA
. Asmara is the capital. Did I know that? No, nary a clue. Thank you, crosses. I'll try and remember for next time. I won't though.
44. Poetic sphere:
ORB
46. Rental ad abbr.:
RMS.
Rooms.
47. Veto:
REJECT
48. Brownish gray:
TAUPE
51. Birdie topper:
EAGLE
. In the golf world, a birdie is one under par, an eagle is two under on a hole.
52. Jagged, as a leaf's edge:
EROSE
. My word of the day, I think. File under "new vocabulary".
53. Carnival attractions:
RIDES.
54. Data unit:
BYTE
. I like to think the Apple logo has a "byte" taken out of it. I know, I'm a geek.
55. Musician's forte?:
LOUD
. The pianoforte, to give it its "grand" name, is literally a soft-loud.
59. Place for a chemical peel:
SPA
. It sounds so brutal. A peel is horrible enough thought, then you add chemicals to the process. No thank you.
60. Lang. of the Torah:
HEB.
61. __ minérale: French spring supply:
EAU.
Mineral water to the non-francophones.
62. Gratified:
FED
. I can see this being a trap word for an ESL speaker - being "fed up" doesn't mean you're full of gratification.
And on that note, I'm fed by this puzzle. Here's the grid, and here's me saying toodle-pip.
Steve