Theme: B AND B (38. Inn offering a morning meal, briefly ... or a hint to six puzzle answers) - Each theme entry is in the pattern of B* B*:

17A. Foamy tubful for unwinding: BUBBLE BATH.
27A. Lumber on a diamond: BASEBALL BAT.
47A. Bryan Cranston crime drama: BREAKING BAD.

62A. Fish-and-chips coating: BEER BATTER.
3D. Infant's source of nourishment: BABY BOTTLE.
30D. Icon with a left-facing arrow: BACK BUTTON.
Boomer here. Congrats to Jared Goudsmit on his LA Times debut.

My older sister, Barbara Burnikel, is pretty good at solving crosswords. She lives in San Francisco and subscribes to the New York Times.
Last Friday I needed a "Boomer Blood" draw at the VA. and today I will receive a phone consultation from my oncologist to let me know how I am doing. During the Blood Draw, I asked if they had any Covid vaccine doses lying around, and the young lady told me that they just had a clinic for vaccines the previous week and 650 veterans received shots. I was shocked by the news that all of the recipients were 85 years or age or older. I remember years ago when I was too young to buy cigarettes or liquor, but I never knew the day would come where I was too young to get a shot.

Across:

1. Swedish pop group with the hit "Chiquitita": ABBA.
5. Top dog: ALPHA. This sounds like a fraternity thing.

10. Trojan War hero: AJAX. A cleanser that you might clean your driveway with.

14. Stroller, in Sheffield: PRAM.

15. Give up, informally: BAG IT. Our Las Vegas trip was cancelled this year, so I won't have to BAG IT at the craps table.

16. Serenity "before the storm": CALM. "Serenity now" - Frank Costanza on Seinfeld.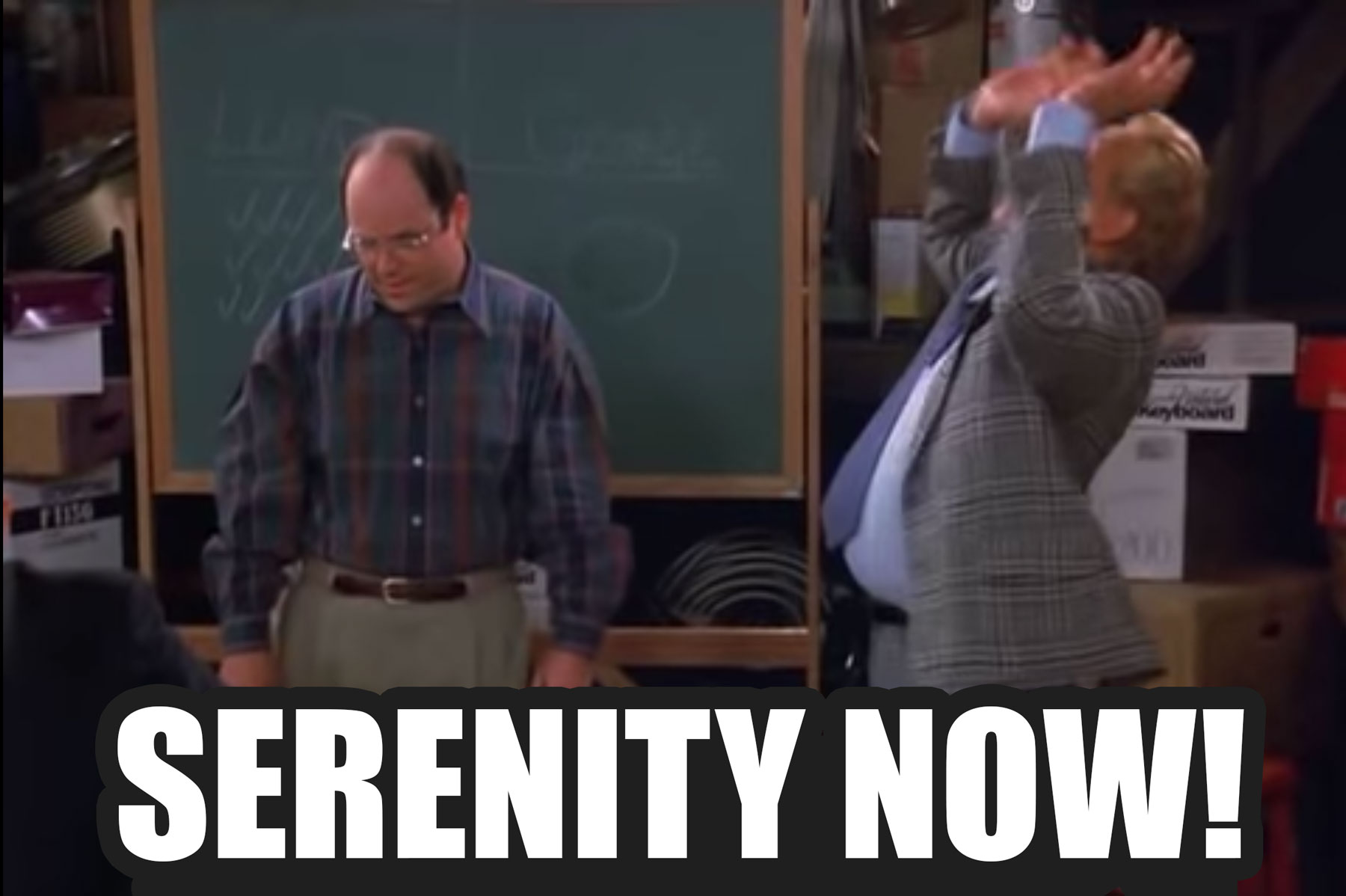 19. Excessive publicity: HYPE.

20. Needlelike engraving tools: STYLETS.

21. Mae __, first Black woman in space: JEMISON. About 10 years younger than I. She floated aboard the Space Shuttle Endeavor.

23. Airer of Tyler Perry's "The Oval": BET. Black Entertainment Television.

24. Harmonic: TONAL.

25. "Last Week Tonight" network: HBO. I have cable TV but I pass on paying extra for HBO.

33. Deli sandwich, initially: BLT. One of my favorites, but a little tough to open wide to eat.

34. Nobelist Wiesel: ELIE.

35. Use the exit: LEAVE. "Leaving on a Jet plane, Don't know when I'll be back again." John Denver.

36. On the __: quarreling: OUTS. Three of them are the end on an inning.

41. Whole heap: SCAD.

42. Turns to soup, as ice cream: MELTS. I have found some excellent "Vanilla Bean" ice cream at Aldi. 1/2 fat and I lace it with sugar-free chocolate pudding powder and some sugar free wafers.

44. Mystical vibe: AURA.

46. Jest: KID. No KIDDING - it's a great dessert.

50. Investigative journalist Nellie: BLY. HOF Twins pitcher Bert BLYleven.

51. "Check it out for yourself!": GO SEE.

52. Bird in Liberty Mutual ads: EMU. Yup, and if you ask me, they are pretty stupid ads.

54. Ali of "Love Story": MACGRAW

57. Artist's board: PALETTE.

61. Loafing around: IDLE. If you live in my state, it's called letting your car warm up in the winter.

64. Old Russian ruler: CZAR.

65. Hosp. trauma pro: ER DOC. I have a bowling buddy named Don. He is a retired ER gas passer so of course we call him "Doc".

66. Caramel-filled candy: ROLO.

67. Shift and Tab: KEYS. On the keyboard. It has taken me time to get used to the fact that our Santa Fe does not have KEYS. Press a button to open the doors. Put your foot on the brake and push a button and it starts.

68. Praises highly: LAUDS.

69. Small bills: ONES. Honoring our first president but these days it doesn't buy much.

Down:

1. Police dept. alerts: APBS. More than one All Points Bulletin.
2. Very dry, as Champagne: BRUT. I seem to remember a cologne by this name.

4. Easygoing pace: AMBLE. Putt out on the hole then AMBLE to the next tee.

5. Help a robber, say: ABET. Double it $10.00 on the Pass Line.

6. Experiment sites: LABS.

7. Links org.: PGA. I was following them in Phoenix last week. A few spectators but I did not see any masks. Okay, I did not wear a mask when I played last summer, but I kept a distance.

8. Assassin's assignment: HIT JOB. Also Albert Pujols' assignment.

9. Greek goddess of wisdom: ATHENA.

10. Trojan War hero: ACHILLES. He must have been the guy with the bad heel.

11. Blue birds: JAYS. Toronto's MLB baseball team eh.

12. Purina rival: ALPO.

13. Marvel-ous heroes?: X-MEN.

18. Do not disturb: LET BE. "Speaking words of wisdom, LET it BE, LET it BE. Beatles.

22. Retail complex: MALL. Minnesota has a "Mall of America" on the South side of Minneapolis. Since we live on the north side, we don't visit it much. Have not been there at all since the virus hit.

24. Like many first-time workers: TEENAGE. My first time job was a caddy at the country club. I was fourteen. Great job and free golf every Monday morning.

25. Cold War threat: H BOMB.

26. Clearer, as a sky: BLUER. It's a bit odd. A clear blue sky in the summer and it's very pleasant. Same clear blue sky in the winter and you freeze your tail off.

28. Priest's robe: ALB.

29. One-named "Chandelier" singer: SIA.

31. Be of use to: AVAIL. We had a bit of snow last week and had to AVAIL ourselves of a couple of shovels. Nothing like the Northeast got last week however.

32. Bear in a kid's bed: TEDDY. Mr. Roosevelt on Mount Rushmore.

37. Walks drunkenly: STAGGERS. My meds prohibit alcohol in my system but sometimes I stagger anyway.

39. Name, as a knight: DUB. Hit a golf ball less than five yards.

40. Bikini top: BRA.

43. Toffee candy bar: SKOR.

45. Journalist __ Rogers St. Johns: ADELA.

48. Author Allende: ISABEL.

49. Period "ushered in": NEW ERA. This is our NEW ERA of Covid vaccine. Minnesota has given shots to 8% of its citizens. I have received four emails "We'll let you know" from the VA. Still waiting my turn.

53. Paris subway: METRO. I thought it was one of those big, long sandwiches.

54. Rocking Jagger: MICK. HOFer Mantle.

55. Axlike tool: ADZE.

56. Potter's material: CLAY.

57. Jab: PROD.

58. Elementary lesson: ABCS.

59. Marketing prefix: TELE. Yes and I wish they would leave me alone.

60. Greek matchmaker: EROS.

63. Tulane URL ending: EDU. And many others.
Boomer