Theme: "Seeing (See ING) Progress" - ING orderly progresses from left to right in the grid.

22. Fit: IN GOOD SHAPE.
29. Arrives like a brainstorm: SPRINGS TO MIND.
51. Start of a hopeful chant: RAIN RAIN GO AWAY.
69. Absolutely zero: NOT A SINGLE ONE.
88. Ignore mistakes, say: LET THINGS SLIDE.
105. Disney theme park: ANIMAL KINGDOM.
119. Family film feature: HAPPY ENDING.

It would be perfect in all ING span across multi-words, but sometimes it's impossible, esp given the orderly progression constraints. Love the HAPPY ENDING as last themer.

Across:

1. Playground game with hoops: HORSE.
6. Blobby sci-fi villain: JABBA. Jabba the Hutt.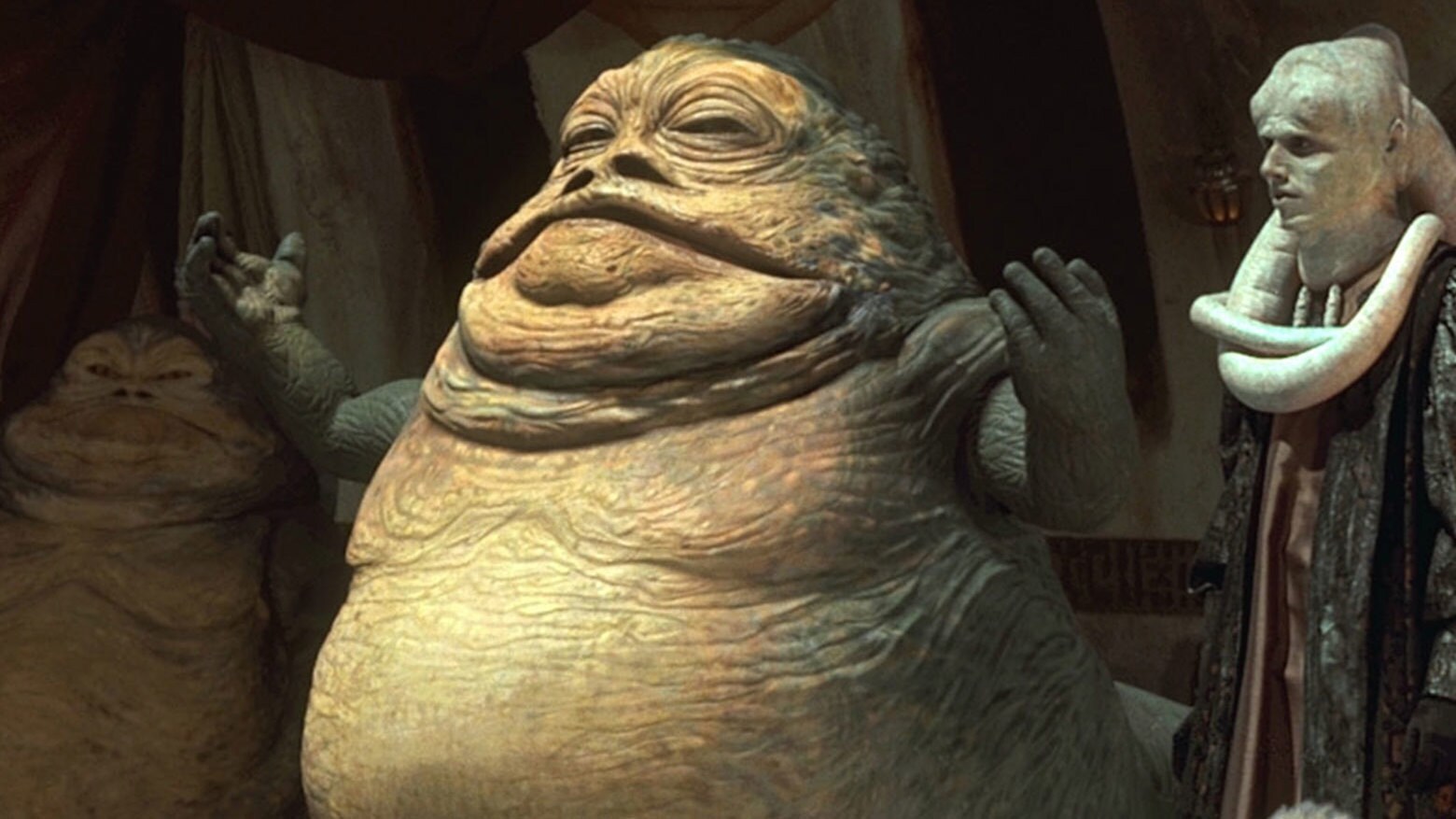 11. Biker's protective wear: LEATHERS.

19. In the know: AWARE.

20. Fitness motto starter: USE IT.

21. Removes faded flowers from: DEADHEADS. Unfamiliar with this use. Only know the Grateful Dead connections.

24. Brand with a Jumpman logo: AIR JORDAN.

25. Regret: RUE.

26. School near Windsor: ETON.

27. Stiles of "Whose Line Is It Anyway?": RYAN.

28. "Friends" friend: ROSS. Nerdy.

34. A, to Beethoven: EINE.

36. Fair: SO SO. Quite a few SO's today: 6. "Precisely like this": JUST SO. 77. "Ciao": SO LONG. And a little bit of 87. Juice with a lizard logo: SOBE. Abbreviation of South Beach.

37. Formal talk: ADDRESS.

39. Deer sir: STAG.

43. Droid from Naboo, familiarly: ARTOO. Detoo.

46. Volume unit: SONE.

48. Go inside: ENTER.

50. Long, long tail?: AGO. Nice clue.

55. Tower engineer: EIFFEL.

57. Simone's state: ETAT. Is this a typical French name or does it just refer to Simone de Beauvoir?

58. Dagger of yore: SNEE.

59. Mosque official: IMAM.

61. Bound to be: FATED.

62. "I, Claudius" role: NERO.

63. Collapsed: CAVED IN.

66. Like some fried food: OILY. I love fried food, esp those yau gok during Spring Festival. These haves peanuts and coconut flakes inside.

68. Letters on a bathroom tube: ADA.

72. Dealer-busting org.: DEA.

75. Meter starter: ALTI.

76. Compared with: VIS-A-VIS. Nice to see its full form.

77. Places where quiet is often demanded: SETS.

78. Cut of the loot: SHARE.

81. River past Logroño: EBRO. A la Wiki: Logroño is the capital of the province of La Rioja and situated in northern Spain. Traversed in its northern part by the Ebro River, Logroño has historically been a place of passage – such as the Camino de Santiago.

84. It's raised at a circus: TENT.

85. Obligation: ONUS.

86. Many surfers: AOLERS. Our editor is one.

92. Letters on a GI's letters: APO.

93. Absorb, as a spill: SOP UP.

95. Twitter rampage: RANT. Look at these pictures. Hope D-Otto's Phil the Philodendron survive.
96. Hale-Bopp, for one: COMET.

97. Alphabetically first V8 ingredient: BEET. Nice clue angle.

99. Yawning cause: BOREDOM.

101. Place to make a rial deal: OMAN. Rial deal. Cute.

103. Some tributes: ODES.

111. Part of many a plot: ACRE.

113. Bristol bye-bye: TA TA.

115. Bit of politeness from a hat-tipper: MAAM. Boomer always tips his hat.

116. That guy, to Guy: LUI.

117. Subject of many a watch: BLUE WHALE. Heaviest animal on earth.

123. Enthusiastic to a fault: OVER-EAGER. Hahtoolah would have linked something funnier to 124 you guys.
124. Elicit a chuckle: AMUSE.

125. A detective may act on one: HUNCH. Re-booting the PC did not help with my right click problem last Thursday. I figured it was a Google glitch as it did not affect any other sites I visit. The problem went away on Friday morning.

126. Spoofs: PARODIES.

127. Minibike kin: MOPED.

128. __ music: SHEET.

Down:

1. Clues for DNA analysis: HAIRS.
2. Accept the blame: OWN UP.

3. Wild party: RAGER.

4. "No seats" sign: SRO.

5. Job listing abbr.: EEO. Equal Employment Opportunity.

7. "Take __ at it": A SHOT.

8. Bingo cousin: BEANO.

9. Marcel Marceau clown persona: BIP. Learned from doing crosswords.

10. Snacked: ATE.

11. Princess with cinnamon-bun locks: LEIA.

12. Not kidding: EARNEST.

13. Asleep in Eng. class?: ADJ. Oh, asleep is an adjective.

14. Cause of sticker shock at the florist?: THORN. Another great clue.

15. They may be unsung: HEROES.

16. "CSI" actor George: EADS.

17. Old food label figs.: RDAS.

18. I-9 ID: SSN.

21. Thoughts of the beach while in class, e.g.: DAYDREAM.

23. MIT offerings: DEGS. Degrees.

27. Boxing div.: RND. Rounds.

30. Suspects: IS ONTO.

31. Jordanian queen dowager: NOOR. Queen Noor. So elegant.

32. José's hand: MANO.

33. A light bulb may symbolize one: IDEA.

35. "It's clear now": I SEE.

38. Multi-lingual Irish singer: ENYA.

40. First golfing U.S. president: TAFT. Oh good to know.

41. Pulitzer-winning author James: AGEE.

42. __ standard: GOLD.

43. Bowl, say: ARENA.

44. Was highly regarded: RATED.

45. Formal wear item: TIARA.

46. 1983 Indy 500 champ Tom: SNEVA.

47. Fancy moldings: OGEES.

49. Throw very hard: RIFLE.

52. Berkshire racecourse: ASCOT.

53. Deadlocked: IN A TIE.

54. Alleged creation of Buffalo's Anchor Bar: WINGS. Never had Buffalo wings.

56. Wray of "King Kong": FAY.

60. Herd mentality output?: MOOING.

64. Golfer's gouge: DIVOT.

65. Pasta restaurant closing?: INI.

67. RPI and NIH: INSTS. Institutes.

69. Cards, for short: NLERS. Cardinals/National Leaguers.

70. Tiberius' tongue: LATIN. 120. 70-Down trio opener: AMO.

71. Blessed __: EVENT.

72. Casual Friday fabric: DENIM.

73. Musical workout, at times: ETUDE.

74. Singer's perfect pitch, say: ASSET.

75. "... chips-down" link: ARE.

78. Swedish auto: SAAB.

79. Bit of optimism: HOPE.

80. Lotion additive: ALOE.

82. Fuzzy memory: BLUR.

83. One taking a class over: REPEATER.

89. Picard's counselor: TROI. Here is our Picard's counselor.

90. Jon of "Mad Men": HAMM.

91. Checkout action: SCAN.

94. Stamps: POSTAGE.

98. Figure with a cape: TORERO.

100. __ kit: Ancestry.com item: DNA.

101. Signed off on: OKAYED.

102. Speechless player: MIME.

104. Like morning fields: DEWED.

106. Stimulate: AMP UP.

107. Memory miscue: LAPSE.

108. Pass-rushing group, briefly: D LINE. OK, Defensive Line.

109. Prevention amount: OUNCE.

110. Strength: MIGHT.

111. Inventing middle name: ALVA. Thomas Alva Edison.
112. Card holder, maybe: CUER.

114. Pub mugfuls: ALES.

117. Jazzy genre: BOP.

118. Yokohama yes: HAI. Same in Cantonese.

119. Omelet filler: HAM.

121. Bright students' org.: NHS. National Honor Society.

122. "How obvious": DUH.
C.C.