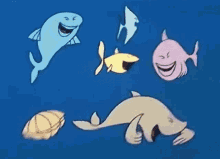 Good morning, cruciverbalists. Long time no sea. Just squidding. Malodorous Manatee here hoping that things are going swimmingly for all of you.
You can tell from the reactions of my friends, above, that today's puzzle from Susan Gelfand provided them with some serious guffaws. Although some solvers might believe that Ms. Gelfand should be
made to walk the plankton for her groan-worthy homonyms, I suspect that most of us got through it without having to be
brain sturgeons.
SOMETHING FISHY'S GOING ON HERE
At four spots within the grid, Susan Gelfand has paired an everyday item, expression, or name with an adjective and turned it into a mirthful homonym. A PERCH, a SOLE, a RAY and a SKATE are each a type of fish. But not here. Not today.
17 Across. Noble fish?:
LOFTY
PERCH
.
LOFTY PERCH has several meanings in everyday use. Things fish-related are not a
mong them.
58 Across. Elastic fish?:
RUBBER
SOLE
RUBBER SOUL is an album released by the Beatles in 1965. The Beetles likely would have enjoyed the pun.
11 Down. Massive fish?:
COSMIC
RAYS
It was a bit, but not too much, of a stretch to get from Massive to COSMIC. Some Rays very much enjoy word play.
30 Down. Stingy fish?:
CHEAP
SKATE
That wraps up the fish jokes - at least the ones furnished by the constructor. At the end of the recap I have "thoughtfully" supplied a link to a song in which other fish jokes, homonyms, and puns are presented. There are also quite a few (non-fish) homonyms and homophones that Susan (intentionally?) seems to have teed up in the clues/answers along the way and, with your kind indulgence, we might have some fun with those - even if it is, with apologies to my friends, like shooting fish in a barrel.
Let minnow if you have any suggestions. Make up your own fish puns. Don't leave it to salmon else . . . there is no need to be koi about it.
And now . . . .
. . . on to the rest of the puzzle:
ACROSS:
One Flew Over The Cuckoo's Nest
MM Granddaughter - Hazel's Lunch