Theme
Trouble Ahead
- a none-too sunny outlook in the forecast:
34A. Song first sung by Ethel Waters at Harlem's Cotton Club ... and a hint to four other long answers:
STORMY WEATHER.
Too good a
music link
to pass up.
17A. They're ominous:
DARK CLOUDS
28A. They're luminous:
LIGHTNING BOLTS
. One of the most colorful light shows I saw was a lighting storm in the Amazon basin flying above it at 35,000 feet. It wasn't just flashes of white, it was like the Northern Lights gone crazy.
42A. They're clamorous:
THUNDER SHOWERS
. Paired with the lightning bolts. Quite spectacular unless you're caught out in the open.
59. They're ruinous:
HAILSTONES.
The largest recorded hailstone in the U.S. was nearly as big as a volleyball and fell on July 23, 2010, in Vivian, South Dakota. It was 8 inches in diameter and weighed almost 2 pounds. That's one hailstone you don't want to get hit by.
Hailstones were certainly ruinous to this car: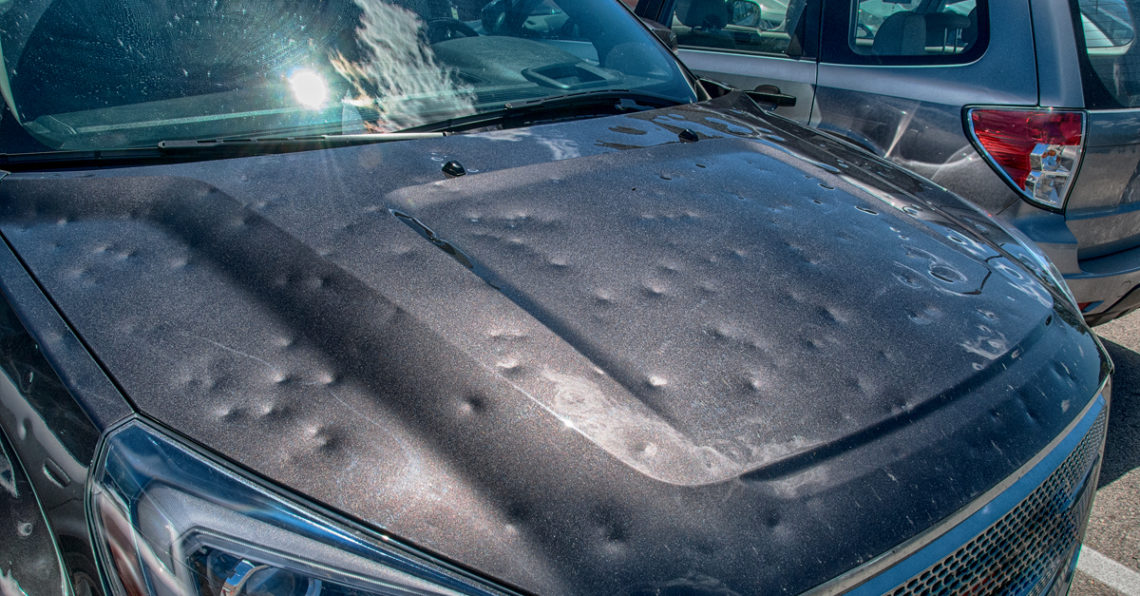 Neatly done by Kurt with the adjectival cluing. A fun, quality puzzle, so no more to say other than to meander through the fill and see what splashes over the rocks:
Across:
1. __ Plaines: Chicago suburb:
DES
. Just north of O'Hare airport, and proud home of Ray Kroc's first franchised McDonald's restaurant. The town is named for the river, whose name, in turn, comes from 18th century French, referencing the plane tree which is similar in appearance to the American sycamore.
4. J. Edgar Hoover Building org.:
THE F.B.I.
10. Catch:
TRAP
14. Suffix with hero: -
INE
15. Sea between Greece and Turkey:
AEGEAN.
A wonderful region for sailing, the Mediterranean has a very small tidal range and rarely gets rough at the Eastern end. I spent a few vacations chartering a sailboat; in the region only rarely did we encounter "stormy weather" where the crew were "feeding the fishes"! More complicated was knowing when to fly a Greek or Turkish flag approaching a secluded island mooring. Get it right, you eat a great meal at at the only restaurant on the island. Get it wrong ...
16. Dutch South African:
BOER
19. Decent-sized lot:
ACRE
20. "No more, thanks":
I'M GOOD
21. End of many long weekends: Abbr.:
MON.
23. Ad __ committee:
HOC
24. Many a "Twilight" character:
TEEN
25. Gulf State native:
OMANI
. A crossword staple, but I sent myself down the wrong alley by getting fixated on U.S. states on the Gulf Coast.
27. That, in Oaxaca:
ESA
32. Word in a January song:
AULD
. lang syne. Incidentially before it was dubbed "The Athens of the North", Edinburgh was (and still is) somewhat affectionately known as "Auld Reekie".
33. Wood strip:
SLAT
40. Flat-bottomed boat:
SCOW
. It could be PUNT, so I wait and see.
41. "Sesame Street" pal of Zoe:
ELMO
49. "Jingle Bells" contraction:
O'ER
. You have to get to the fourth verse tae find it, but it's there.
50. Last Supper question:
IS IT I?
51. "Ivy and __": kid-lit series by Annie Barrows:
BEAN
. Thank you, crosses.
53. Infamous Amin:
IDI
54. More than unfriendly:
ICY
55. Breed of sheep:
MERINO
. What do you call a sheep with quarterback skills? Dan Merino. Which inspired me to get out a Sharpie and a piece of paper, and with no cartooning skills, here I present my own Dan Merino:
Signed, limited edition copies are available! Time for a second career?
57. Astrological transition point:
CUSP
62. Wasatch Mountains resort:
ALTA
. Thank you, crosses. Neither the resort nor the mountain region had hitherto blipped my radar.
63. "Twilight" vampire:
EDWARD
. I should watch more vampire and zombie shows, I'm clueless with this stuff. Crosses to the rescue again.
64. Suffix with Brooklyn: -
ESE
. The dropped "r" used to be considered posh - FDR's "The only thing we have to
feah
is
feah
itself". Post WWII it became the language of Archie Bunker and Tony Soprano.
65. For fear that:
LEST
66. Trounces:
WHOMPS
67. Some NFL blockers:
R.T.S
. Right Tackles. If your quarterback is left-handed (like Steve Young) you're guarding his blind side, so you'd better be on your toes (as much as a 350lb tackle can be!).
Down:
1. Finished a job:
DID IT
2. Dental layer:
ENAMEL
3. Composer Rachmaninoff:
SERGEI
4. Food truck fare:
TACO
. Food! The taco is probably LA's signature food item, in my humble opinion. The
mariscos jalisco
shrimp tacos from Raul Ortega's truck in Boyle Heights are the best in the city, and there's a lot to choose from!
5. Believed:
HELD
6. Swelled head:
EGO
7. Pot-au-__: French stew:
FEU
8. Outlaw:
BAD MAN
. I ran through a few options here. BANISH was my first and I was rather proud of identifying a verb, rather than a noun. Then I was wrong. Pride comes before a fall, as they say.
9. Happy way to break out:
IN SONG.
Tra-laaaaaa!
10. Abbr. in an unfilled TV slot:
T.B.A
11. New __, NY: home of Iona College:
ROCHELLE
12. Ford's first minivan:
AEROSTAR
13. Like some concrete:
PRE-CAST
18. Big ape:
KONG
22. Bird's beak:
NIB
. This is interesting - I knew NIB only in the fountain-pen sense, or as a small piece of black licorice.
25. Sole:
ONLY
26. Corn Belt region:
MIDWEST
29. Guffaw syllable:
HAR
30. Rum __ Tugger: "Cats" role:
TUM
The Rum Tum Tugger is a Curious Cat:
If you offer him pheasant he would rather have grouse.
If you put him in a house he would much prefer a flat,
If you put him in a flat then he'd rather have a house.
If you set him on a mouse then he only wants a rat,
If you set him on a rat then he'd rather chase a mouse.
T.S.Eliot. "Old Possum's Book of Practical Cats."
31. __Kosh B'gosh:
OSH
. Wis-KAAan- sin, while are on the subject of Brooklynese.
34. Bus kiosk posting:
SCHEDULE
35. Ones seeing things:
TOURISTS
36. Dominate:
OWN
37. K-12, in education:
EL-HI
38. Latin lover's word:
AMO
, amas, amat, amamus, amatis, amant. C.C. and I once offered a puzzle to an (unnamed) editor who turned it down - he didn't pronounce the words the same way that we did. (Or I did, to be fair).
39. Parking violation risk:
TOW
. Expensive. I once was with a friend on Hollywood Boulevard when he got his car towed from outside Musso and Frank in the late afternoon. He "swore he'd parked it right here" until I pointed out the sign right above the empty space that read "Two Hour Parking 10-4. Violators will be towed". It was 4:30. Oops.
40. Showing no emotion:
STOICAL
43. 502, in old Rome:
DII
44. Steer clear of:
ESCHEW.
I always thought it was "enschew". Crosswords corrected me.
45. Saudi Arabian capital:
RIYADH
46. Iberian river to the Mediterranean:
EBRO
47. Carl with nine Emmys:
REINER
48. Most sensible:
SANEST
52. Snoops (around):
NOSES
55. Car sticker no.:
MSRP
56. Postings at an airline gate, for short:
ETD'S
58. Vanna's partner:
PAT
. All together now: Wheel! Of! Fortune!
60. __ Jima:
IWO
61. Quick flight:
LAM
. Of course I confidently filled in "HOP" and was proved wrong. Too impulsive! Nice clue.
Fun puzzle, thank you Kurt, the grid is here and I'm off, sated and happy with a great puzzle.
Steve