Theme:
(TWENTY) FOUR
SHADES OF GREEN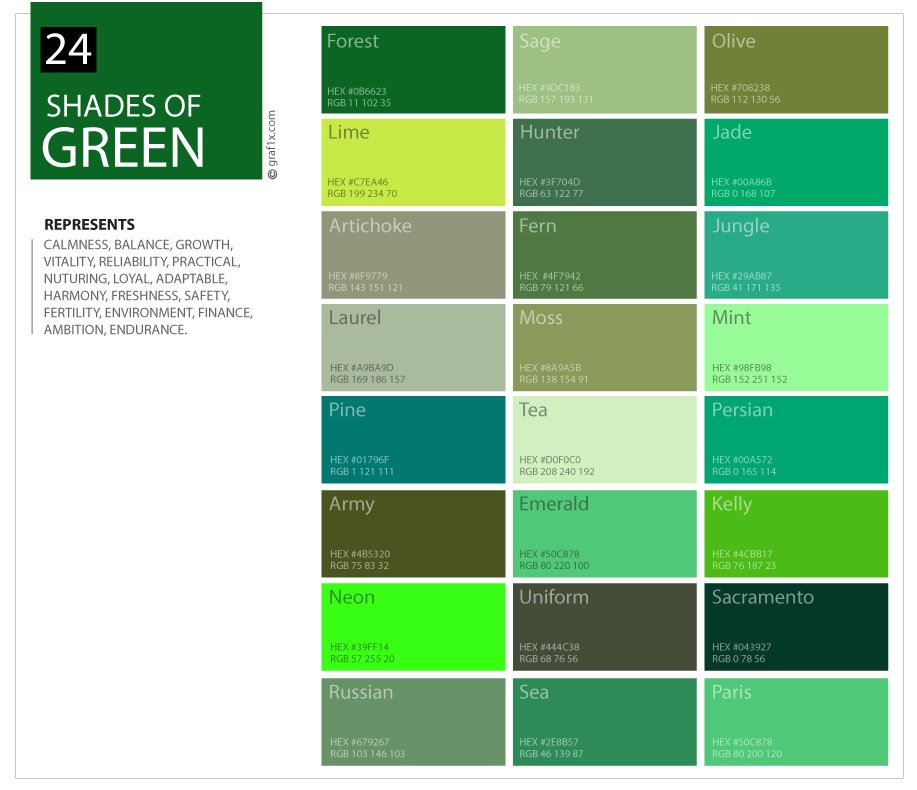 Hi all, Melissa here. The second word of each theme answer is a shade of green. See the chart above, where all four of our shades appear. The artichoke shade seems more like a shade of grey, but it does look a lot like the color of a cooked artichoke heart.
16. *Orson Welles' role in "The Third Man": HARRY

LIME
23. *James T. Kirk player, in recent "Star Trek" films: CHRIS

PINE

.
50. *"Pogo" cartoonist: WALT

KELLY

.
59. *"Damn Yankees!" star: TAB

HUNTER

.
35. Dollar bill, e.g. ... and what the ends of the answers to starred clues have in common: GREENBACK.
Across:
1. School of thought: ISM.
4. 1972 Kentucky Derby winner __ Ridge: RIVA.
8. Landlocked African country: MALI.
12. Sense of balance: STABILITY.
15. Half of a folk-rock duo: SIMON. Simon & Garfunkel. The Harmony Game, a 2011 documentary that tells the story of their landmark album 'Bridge Over Troubled Water' is streaming now on Amazon Prime Video.
17. Public square: PLAZA. Seeing PLAZA just below SIMON makes me think of Neil SIMON's PLAZA Suite - on Broadway March - July.
18. Court answers: PLEAS.
19. Org. promoting fluoridation: ADA. American Dental Association.
21. State of calm attentiveness: ZEN.
22. Fair-haired: BLOND.
26. Kareem, once: LEW. NBA great Kareem Abdul-Jabbar,
born Ferdinand Lewis Alcindor Jr.
27. Deli order: HERO. Nice clue.
29. Police trickery: STING. Not always police - as in the 1973 movie The Sting, inspired by real-life cons, brothers Fred and Charley Gondorff, and documented by David Maurer in his book The Big Con: The Story of the Confidence Man.
30. Koala's hangout: TREE.
32. Crest container: TUBE.
34. "Bus Stop" playwright: INGE. William.
38. Curly top: AFRO.
40. Landlocked Asian country: LAOS.
41. "Elephant Boy" boy: SABU. 1937 Movie based on Rudyard Kipling's "Toomai, of the Elephants," from Rudyard Kipling's The Jungle Book. Sabu was the young Indian actor who played Toomai.

45. Jigsaw unit: PIECE. Puzzle piece.
47. Color printer refills: INKS. Ink and toner has to be some of the most overpriced office supplies ever invented. Come in for the free printer - come back soon to buy the $250 ink.
49. "What's shakin'?": SUP. Short for 'what's up?'
52. Finds the right words, say: EDITS. As an editor, I like this clue.
54. Step into character: ACT. Favorite clue of the day.
55. It may need massaging: EGO.
56. Crouch down: SQUAT.
57. Word with ice or cookie: SHEET.
63. Wetland birds: TERNS.
64. Pushing to the limit: STRAINING.
65. "Put a tiger in your tank" brand: ESSO.
66. Babe in the woods: FAWN. Also, the paper-shredding legend from the
Iran-Contra hearings.
67. LP successors: CDS. From long-playing vinyl records to compact discs.
Down:
1. "More or less" suffix: ISH.
2. Desktop item: STAPLER.
3. "The Big Sleep" private eye: MARLOWE. Detective Philip Marlowe is a fictional character who first appeared under that name in the 1939 novel, The Big Sleep, twice adapted to film.
4. Most populous Arabian Peninsula city: RIYADH. C
apital of Saudi Arabia and the largest city on the Arabian Peninsula.
5. Pandora's boxful: ILLS. F
rom the ancient Greek story about a character named Pandora, who was given a box as a wedding gift but was ordered not to open it. Eventually, curiosity overcame her and she opened the box, releasing death, evil, and misery into the world.
6. Sundial seven: VII.
7. PIN point: ATM. PIN = Personal Identification Number.
8. End of a soldier's URL: MIL. From Wikipedia:
The domain name mil is the sponsored top-level domain (sTLD) in the Domain Name System of the Internet for the United States Department of Defense and its subsidiary or affiliated organizations. The name is derived from military.
9. Jaw-dropping: AMAZING. 😮
10. Cough drop: LOZENGE.
11. Absurd: INANE.
13. WWII light machine gun: BREN.
Made by Britain in the 1930s and used in various roles until 1992.
14. Class ring number: YEAR.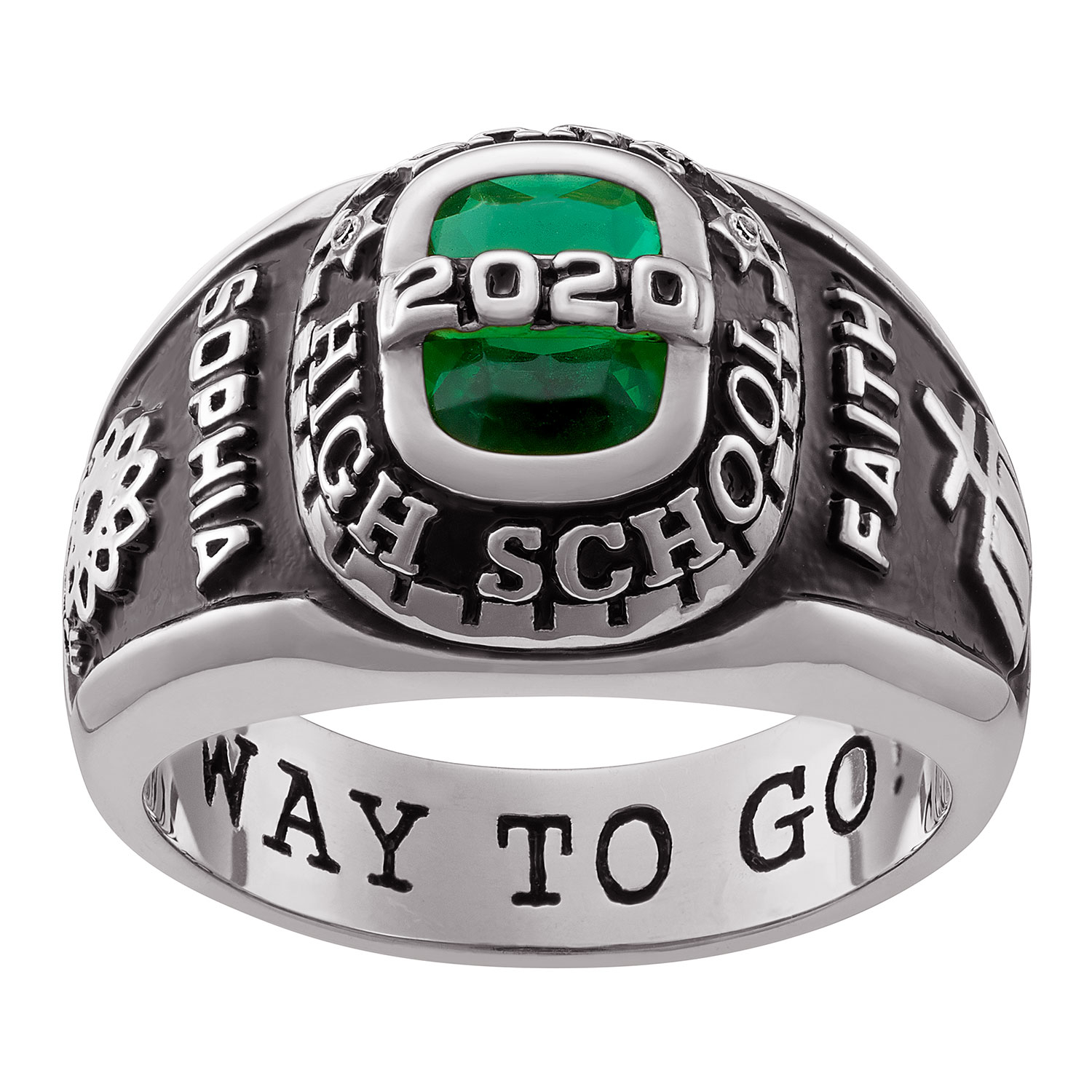 15. Acting fitfully: SPASTIC.
20. Talk smack about: DIS.
22. Deli order: BLT. Clecho of 27a.
23. Pitiless: CRUEL.
24. Boot stud: HOBNAIL.
In footwear, a hobnail is a short nail with a thick head used to increase the durability of boot soles.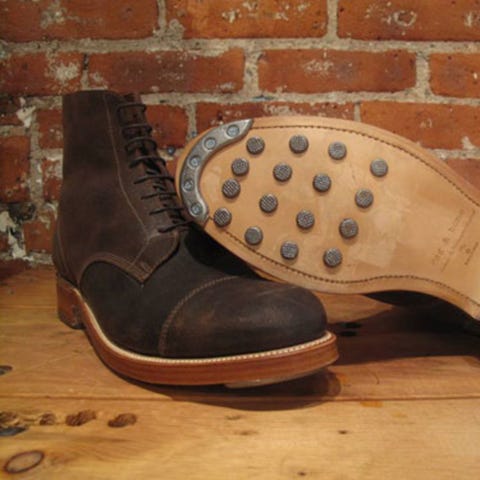 25. Legendary Hollywood hot dog restaurant: PINKS. Can't go to Hollywood without stopping here for a dog. My daughter in front of the famous painted logo, way back in 2004.
28. French summer: ETE.
31. "Snowy" bird: EGRET.
33. Black shade: EBONY.
36. Houston NBA team: ROCKETS.
37. "Try me": ASK.
38. Cochise followers: APACHES. According to Tom Brown, Jr., the famous tracker, the Apache were desert-dwellers and therefore excellent trackers. In his books and classes, track patterns that he calls "pressure releases" are described using geological terms like ridge, peak, and plateau, as variations in prints could be clearly seen in sand.
39. Instagram overlays: FILTERS.
42. Like some lions: ASIATIC.
43. Rifle handle: BUTT END. That was tricky.
44. Good times: UPS. For some reason I could only see UPS as the delivery service, until I finally realized it was not an acronym.
46. Brain scan inits.: EEG. An e
lectroencephalogram
is a test used to evaluate the electrical activity in the brain.
48. Costume spangle: SEQUIN.
50. Fritter away: WASTE.
51. They may be drawn: LOTS.
Drawing lots = making a chance decision by using lots (straws or pebbles etc.) that are thrown or drawn.
53. Country duo Brooks & __: DUNN.
56. Bandleader Artie: SHAW.
58. Rock producer Brian: ENO.
60. DOJ division: ATF. Alcohol, Tobacco and Firearms.
61. Bikini half: BRA.
62. Some NFL linemen: RGS. Right guards are positioned
on the right of the offensive line.